Savuti – Chobe National Park
Namibia & Botswana, June – July 2018
Day 18 – Jul 6: Kasane – Savuti, Chobe National Park
A quick lunch before entering real wilderness and soon increasingly deep sand roads: we were finally really driving into the African wilderness… The next 8 days were going to be the most highly anticipated days of our 4 week trip…!
We arrived in Savuti around noon. We checked in to our campsite and had lunch at our beautiful camp site, under the watchful eyes of a couple of Yellow and Red-Billed Hornbills and mongoose.
One of the rangers told us he had seen some lions near some of the waterholes north of camp. That was perfect, as that area was my plan anyway to check out this afternoon and I had already planned a GPS route along most of the waterholes for our afternoon game drive.
So we systematically checked-out one after the other waterhole and it didn't take too much time until we found the lions, a mating couple.
It turned out the mating couple was not alone and about 50 meters away we found 3 young males laying in the grass.
They must have lost the fight for the rights to mate with the female and every time the couple mated they could do nothing else but watch, which gave us some great photo opportunities.
And every time the couple was mating they stood up and stared frustrated towards the love birds. So I anticipated this for some of the following photos, some of my favourites.
What else could we have hoped for, on our first day in Savuti..?! We decided to drive to the south of camp and check out Gobatsaa Hill, better known as Leopard Rock and now famous through a National Geographic documentary about the Leopards living there.
We did not find any leopards, but at least we had a better idea of this area and where to go the next day. Completely satisfied we settled into our camp, which was completely unfenced and wildlife was free to move in and out of the camp… It doesn't get much more exciting than this!
Day 19 – Jul 7: Savuti, Chobe National Park
Today a full day game driving through the Savuti area. What an incredibly beautiful area, and such a diverse landscape, from lightly forested areas with natural little waterholes to rocky outcrops, (dry) river beds and extensive savanna.
How is this for a coffee break..! And we hadn't seen a single other car yet, this morning.
We drove through extensive savanna and really had a blast. We saw hardly any other cars anywhere in the Savuti area, so when half way the morning we noticed a couple of cars in the distance we knew there must be something to see. We decided to check it out and indeed another safari vehicle confirmed there was a lion kill.
Wow, that was cool, lions on a wildebeest kill, up close. Time for coffee.
We slowly made our way back to our camp site for a lunch break. It was Stan's birthday, so that had to be celebrated in some style!
After lunch we couldn't wait to get back into our car, to explore the area around Leopard Rock and hopefully find a leopard… Probably easier said than done, but we know patience often pays off.
We moved to the opposite side of the open area, as that was the direction the leopard went. We soon found a herd of impala, and positioned ourselves on the other side. And waited, and waited, and waited… The sun was setting, we soon had to go back.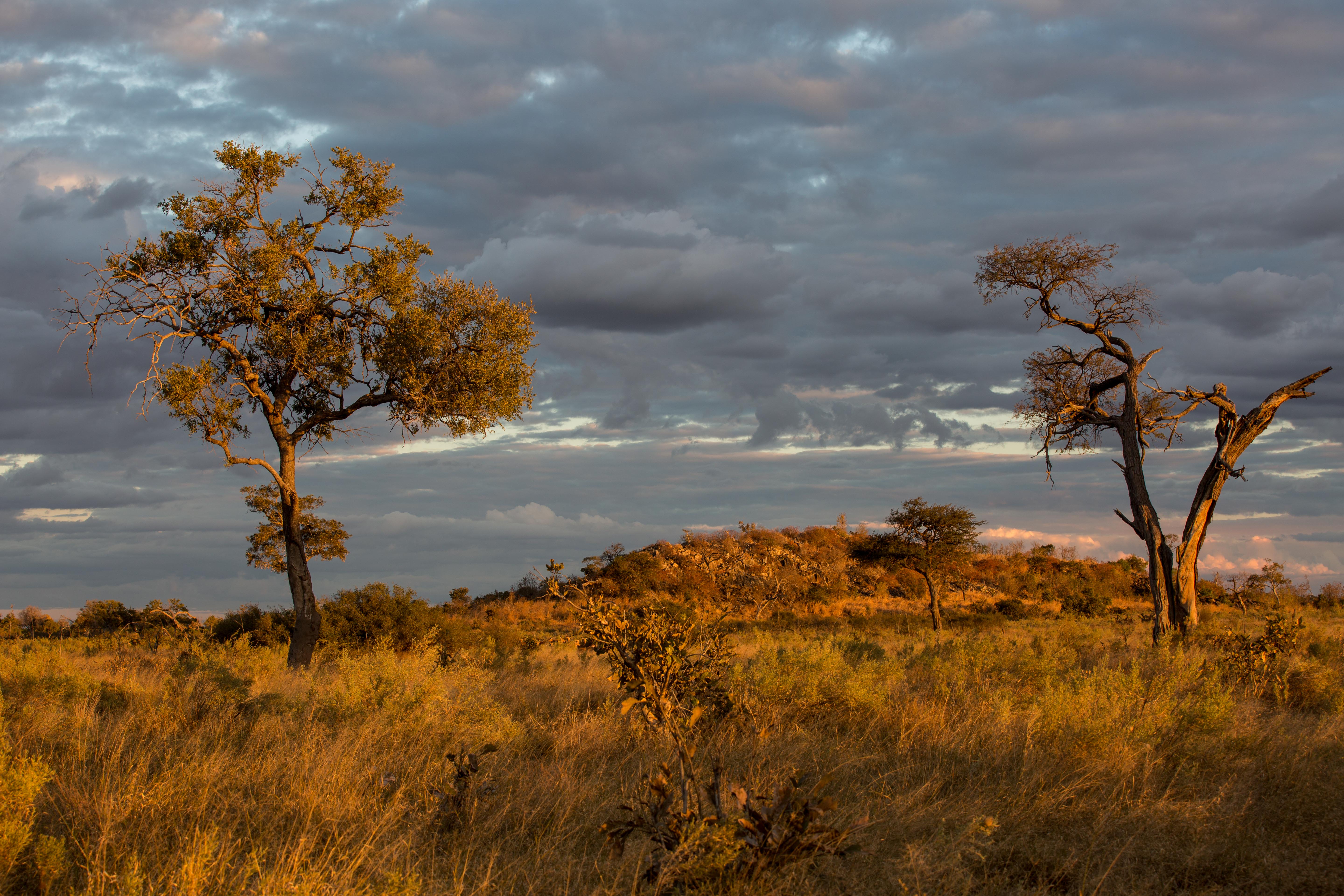 A car came towards us, on their way back to camp. They told us another car had seen a leopard cross a road, about a kilometre from where we were, walking more or less parallel to the road to the west. I thought to know where that was, more or less, from my previous studies of the maps… So we decided to give up on this leopard and go look for that other one…
We drove a few kilometres, into thicker and thicker sand and bush, it was almost impossible to continue. One other car had decided to do the same, but decided to turn around and go back; it was now really getting dark and passed the time we had to be back. There was no gate though at Savuti, so we thought it would be ok to be a little bit late…
And then, all of a sudden, there he was, sitting exactly as on this first photo, less than 10 meters away in an opening in what was generally very thick bush. Really as if he was waiting to be found, as final trophy for patience, and another birthday present for Stan.
 He was on to something… All of a sudden he stood up, walked to a tree 5 meters away and started to frantically dig with his claws, pulling away park and ripping open the tree. Suddenly he dug in…
A sudden squeak and he got something…! He disappeared into the bush. What was it..? We turned the car and waited; a minute later he crossed the road right in front of us, prey in his mouth. I'm still not sure what it was exactly, but I believe a mongoose or squirrel that was hiding in the tree.
He gave us one more look, as if saying "Did you see that? That's how I hunt!"
"Thank you!" Now THAT was something to remember… Our patience and perseverance certainly paid off!
We drove back to our camp, it was now completely dark. To our surprise, The day had one more surprise for us: all of a sudden it started to rain…! In the middle of the dry season…!? It wasn't much and lasted only 10 minutes or so and it was the only rain we've had during our time in Botswana.
Day 20 – Jul 8: Savuti – Khwai (Magotho Camp)
We spend the morning again game driving through the Savuti marsh area, before heading to our next destination, the Khwai area, for our most anticipated real bush camping.
We took the march road to Khwai, as that sounded to be the most beautiful and wildlife-rich route. We did not regret!
All of a sudden we had 2 male lions literally next to the road, within 5 meters from our car! It became obvious that they apparently had been in a fight and were licking their wounds. 
Eventually the lions stood up and walked into thick dry grass. It was time for us to continue our journey to Khwai. Or so we thought…
What happened next is hard to believe. But I have proof…!
We had parked a little off the road, to anticipate any other cars passing by. There were a couple of holes in the dried-up soil and I had to carefully back up first to be able to get on the road again. Stan sat next to me, and wanted to look out of the window to help me avoid the holes. He looked down and immediately screamed and jumped up, almost hitting the car's ceiling. "Snake"…!!! Really as if he had stared death in the face…!
It was actually quite hilarious and both Dio and myself had to laugh. We have a few other friends who are not great fans of snakes and have a similar panic reaction, even by just saying the word "snake". I couldn't see anything from behind the steer. Dio sat in the back, and took a look. He's completely cool with snakes, even big snakes. "Aaaaaarrgggghhhhh….!!!! BLACK MAMBA !!!" and also Dio almost hit the ceiling…! "SHIT", I thought… (actually I thought something else, but I'll keep it decent). My survival instinct took over and I immediately closed the electric windows. Dio knows his snakes, so if he says Black Mamba then I know it's a Black Mamba. "How big…?" "Huge..!" Stan had himself still hardly under control and stuttered "he came this high", pointing with his hand to a level as high as the window. OK, windows are closed, nobody got bitten and Dio saw the snake slide towards the tree just behind us, the tree that the lions had used as shade. I turned the car so I could see the tree, took my camera and opened the window. The mamba must have gone into that tree. And yes he did. I was just in time to take 2 photos, before it disappeared higher up in the tree.
Without exaggeration, I estimated the black mamba to be at least 4 meters long, and almost as thick as my wrist (and I'm a fairly big guy). I'm not sure if the mamba and lions had anything to do with each other. I believe the mamba happened to be somewhere right behind our wheels and I might have touched it while driving in reverse. That may have triggered the snake's reaction, raising up his head to at least a meter high and indeed staring straight into Stan's face!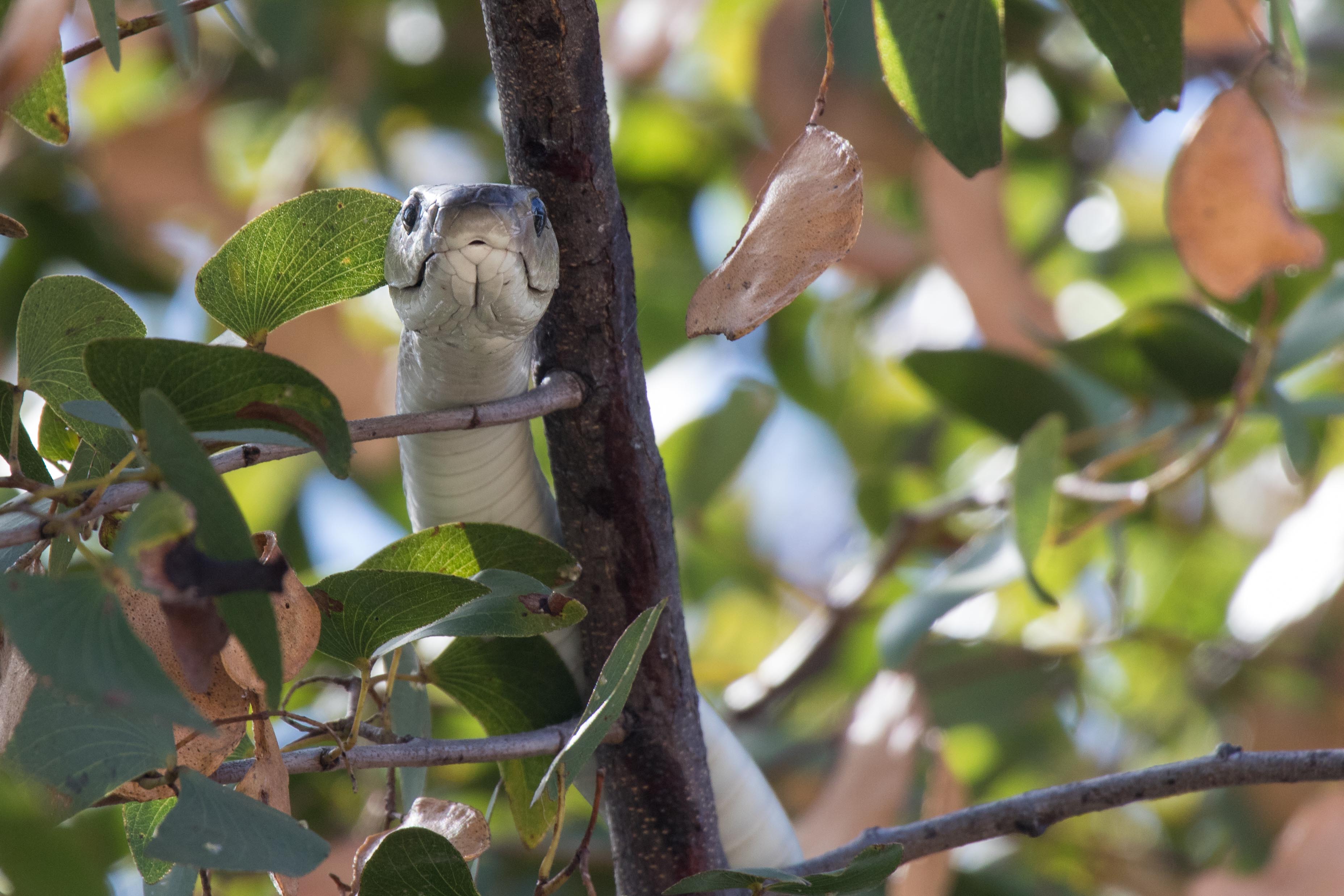 Phew…… It took another 10 minutes before we were all ourselves again.
And so we continued our journey, to the border of the park.
That was Chobe National Park and we now entered our next destination, KHWAI, a community managed conservation area.