Namibia & Botswana, June – July 2018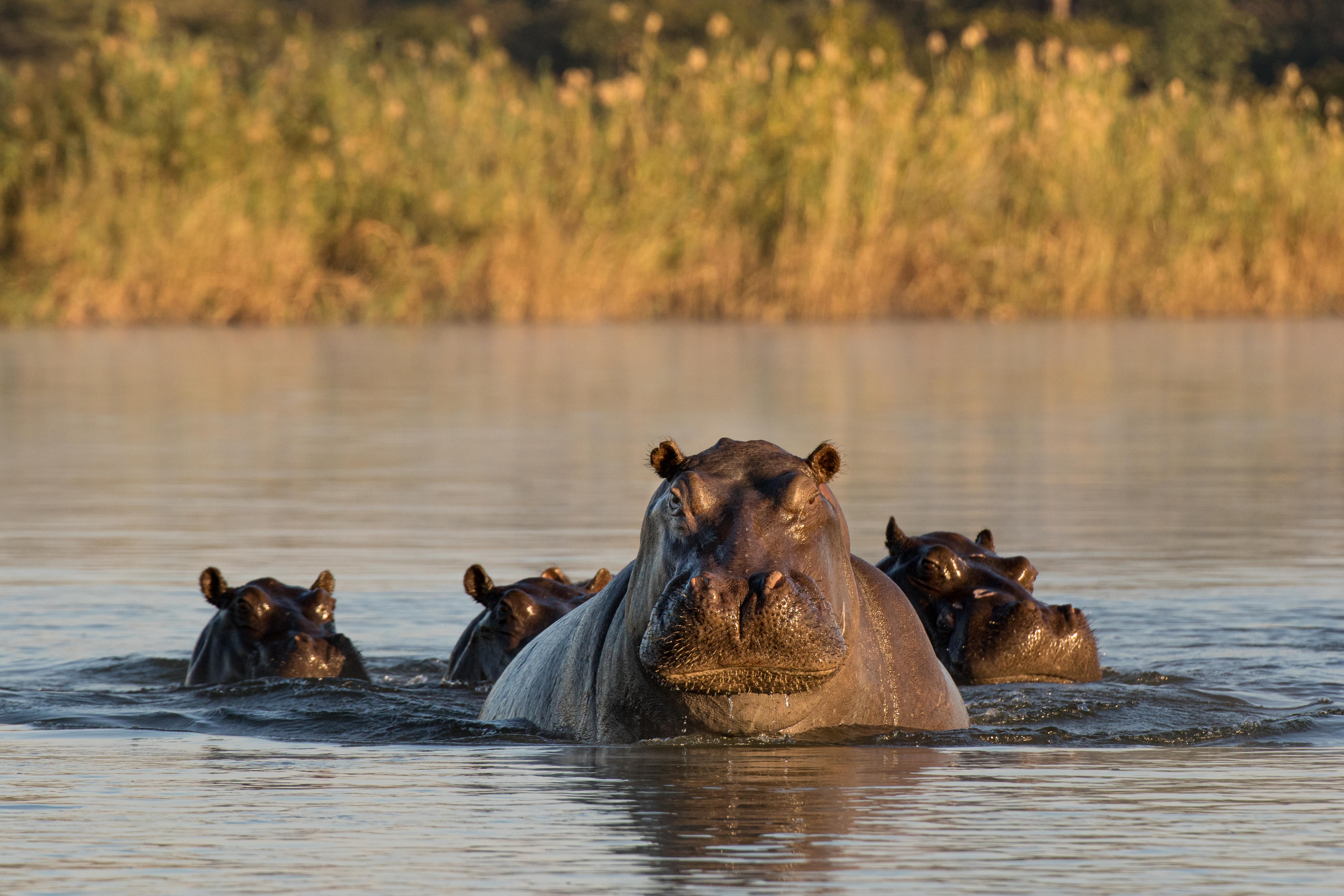 Day 13 – Jul 1: Grootfontein – Divundu
This day we drove via Rundu to Divundu, in the Caprivi Strip. Caprivi is a narrow protrusion of land in Northeast Namibia, bordered by Botswana, Angola and Zambia. It is Namibia's most water-rich area, with the Okavango and Kwando rivers flowing through it from Angola, with the Okavango flowing into Botswana and the Kwando becoming the Chobe river, before merging with the mighty Zambezi river from Zambia, just before the famous Victoria Falls on the border of Zambia and Zimbabwe.
From Grootfontein we drove north and passed the vet fence. What was most striking was the enormous difference once we passed the fence. South of the fence the landscape was dominated by enormous cattle and wild farms and plantations, with very few traditional villages. It didn't really feel particularly "Africa" to us. But once you pass the fence you suddenly arrive on a complete different planet, THIS is Africa, this is how we learnt about it at school, 40 years ago. And most striking was that it seemed that really nothing had changed, at least not for the majority of people living here. They are very, very poor and hardly have anything… It was Sunday, and some of the locals in larger villages wore their best cloths and just came out of church. Outside the villages the locals hardly seem to have cloths though, let alone something fancy for Sunday… Kids were playing along the road or outside the wooden walls surrounding their traditional mud houses. We all felt that we had to get out of our car and visit one of those traditional houses dotted along the almost perfectly straight road. We didn't want to just stop and walk into someone's privacy though, so we decided to find a rest stop near a few traditional houses and have lunch there. And then wait for the local kids to come to us first, have some good time together, share some cookies and snacks and then ask if they can show us around at their homes, which of course we knew they would be delighted to do. It's impossible to describe this experience…
An hour later we were back in the car, driving over this perfectly straight road, lined with little fields and traditional villages and mud houses. Most people here are incredibly poor and really have nothing more than the basics to survive. It was heartbreaking… We didn't speak a word, still absorbing the experience and trying to manage increasingly emerging deep emotions… After half an hour of silence our entire car was overloaded with emotions. I told my son "and this is why you should never, ever complain about life". We all burst out in tears…
We arrived around lunch time at Ngepi Camp, a fantastic camp on the shore of the Okavango river, also called the Kavango. We checked in and booked a sunrise river cruise for the next day.
In the afternoon we did a game drive through the Mahango Game Reserve. The entrance of the reserve is less than half an hour from Ngepi Camp. What a beautiful little park, an absolute jewel and must-visit if you're in the area. Mahango Game Reserve is split by a road that connects Namibia with Botswana. Both sides of this road offer 2 distinctly different areas and a sand track leads through each of them. One area consists of the floodplains of the Mahango river, which later becomes the Kavango river and feeds the Okavango delta. 
In the morning we did a private sunrise river cruise, which was really good fun and the guide of Ngepi Camp was excellent.
After the cruise we did another game drive into the Mahango Game Reserve, this time the entire loop. The afternoon we spend leisurely at our campsite and watched some world cup football…
Day 15 – Jul 3: Divundu – Kongola
Early morning we drove straight to Kongola, where we arrived at the Namushasha Camp before lunch.
We spend some time on the terrace of the lodge, with beautiful views over the floodplains of the Kavango. In the afternoon Stan decided to do a river cruise, while Dio and I went for a game drive through the beautiful Kwando Core Area. I really liked the diverse scenery, from savanna to semi-forest and river banks and flood plains, with some large herds of elephants and buffalo. We only briefly saw one safari lodge vehicle during the 3 or 4 hours we spend in the park.
Day 16 – Jul 4: Kongola – Kasane
That was the Caprivi Strip and our last destination in Namibia. Early morning we drove direct to the border and crossed into Botswana, to our next destination: the CHOBE National Park in Botswana.