We arrived in De Riet and went to the local visitor centre, hoping someone could help us find desert elephants; 5 minutes later we drive upriver with one of the locals, who assured us to find them for us.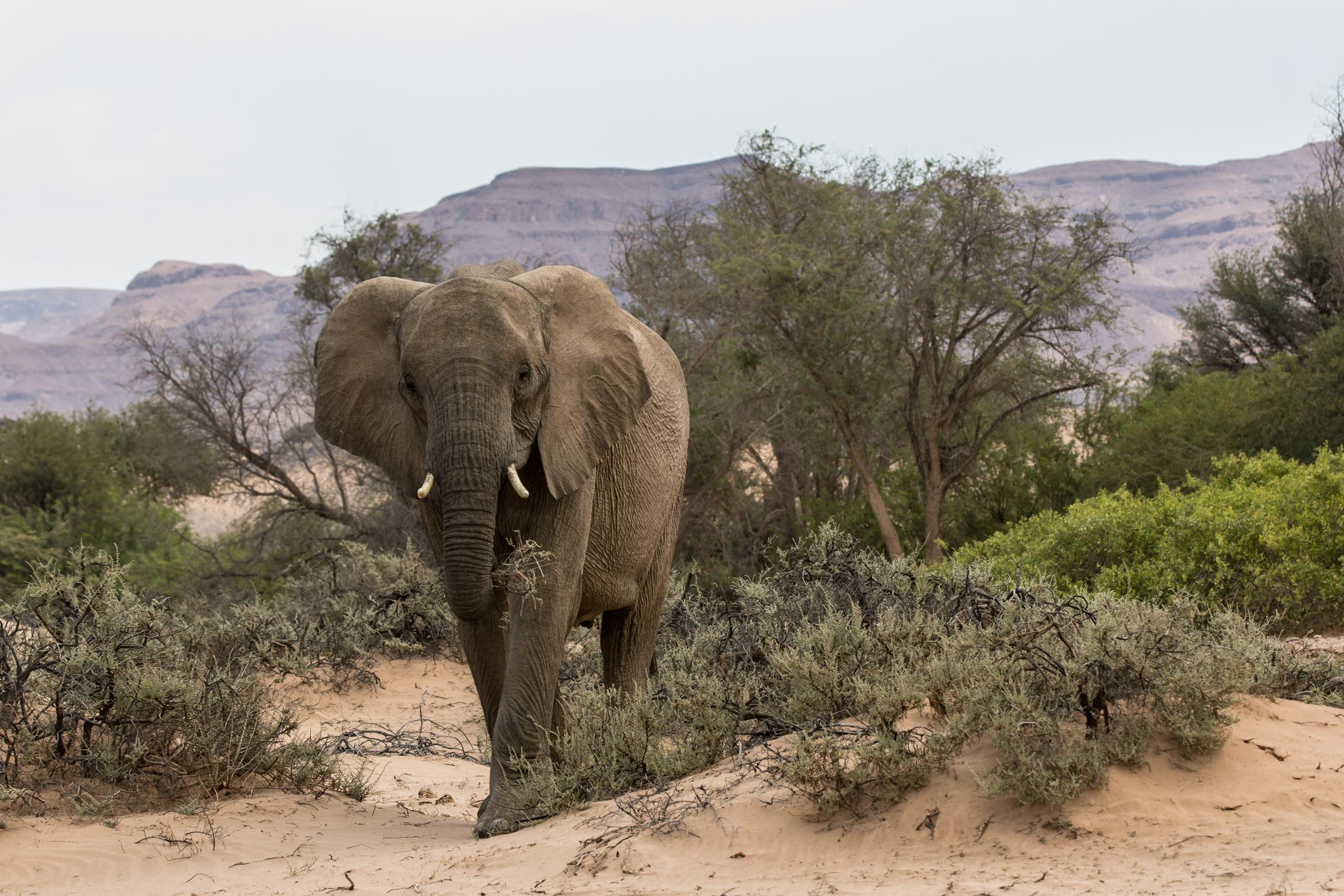 We didn't have to search very long… Our first desert elephants! They give me goosebumps, every single time…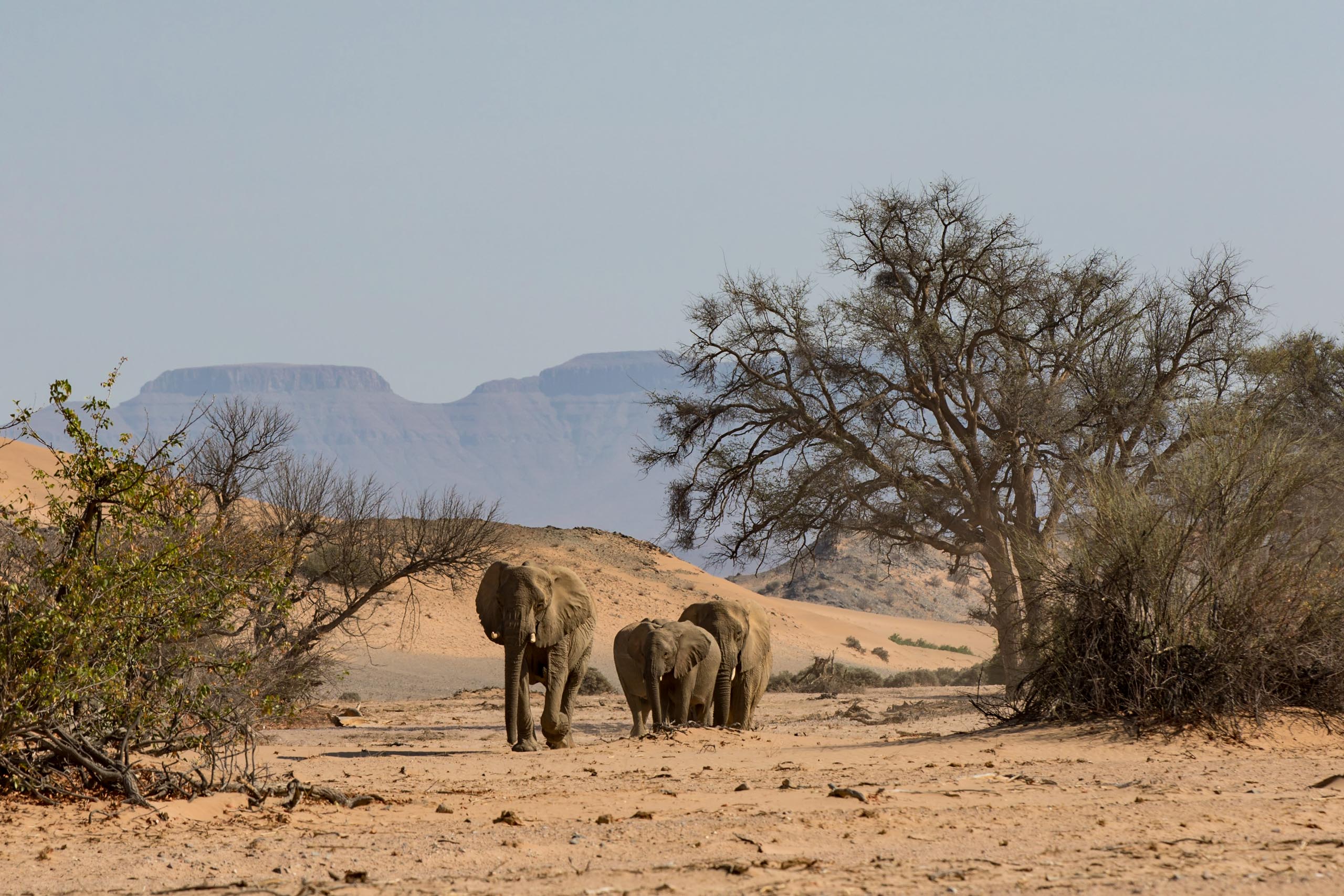 What an awesome place this is; hard to believe there's are hardly any others visiting this riverbed. The scenery is spectacular and wildlife is abundant; within an hour we did not only see desert elephants, but also oryx, springbok and giraffe. And you can drive pretty much anywhere you like, you're not bound to any roads. Be careful near Camel Thorn trees though, the riverbed is often filled with branches with long and sharp thorns…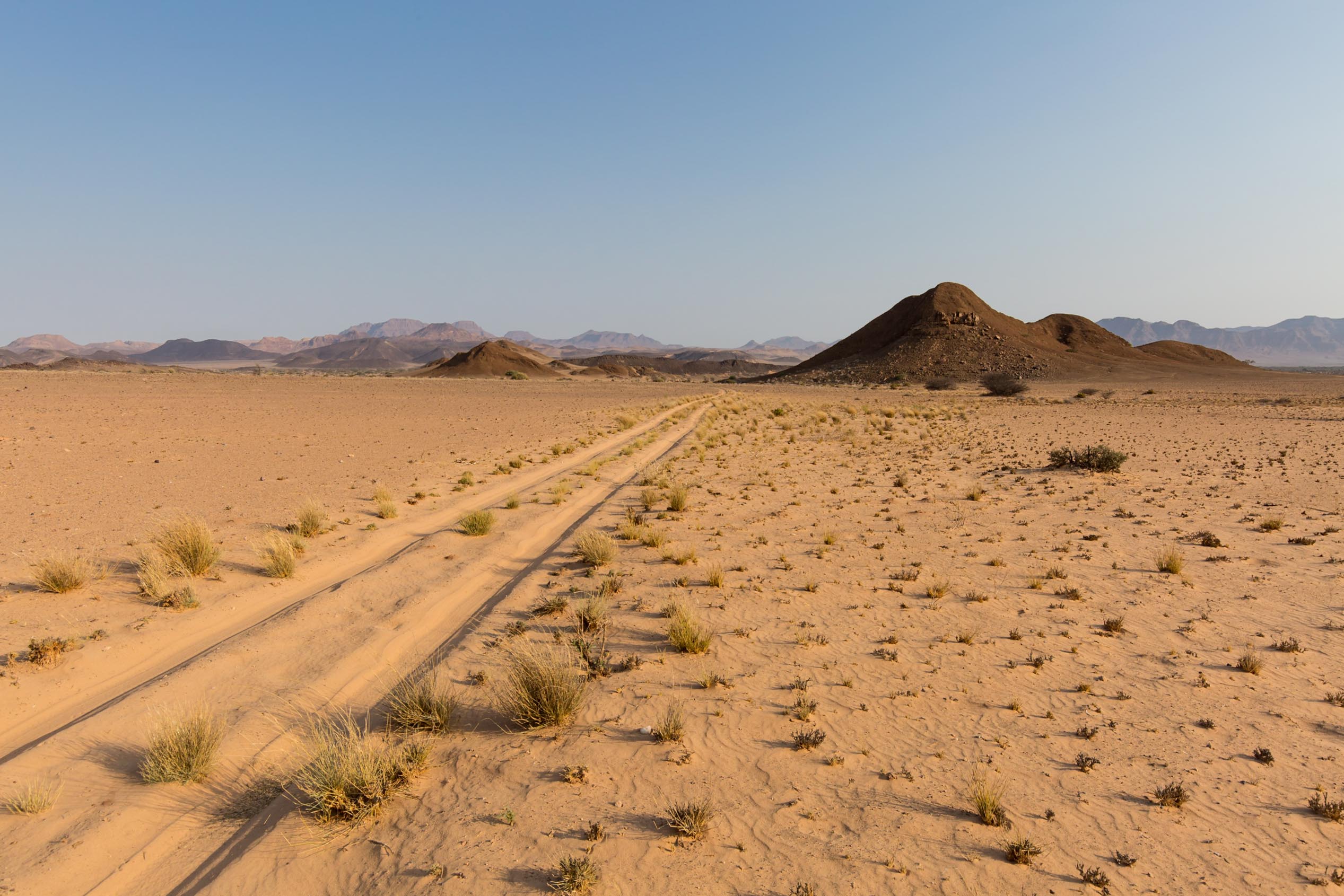 We liked it so much that we decided to spend more time in this area and asked our guide if he knew any good place for us to camp… Oh yes, he did…!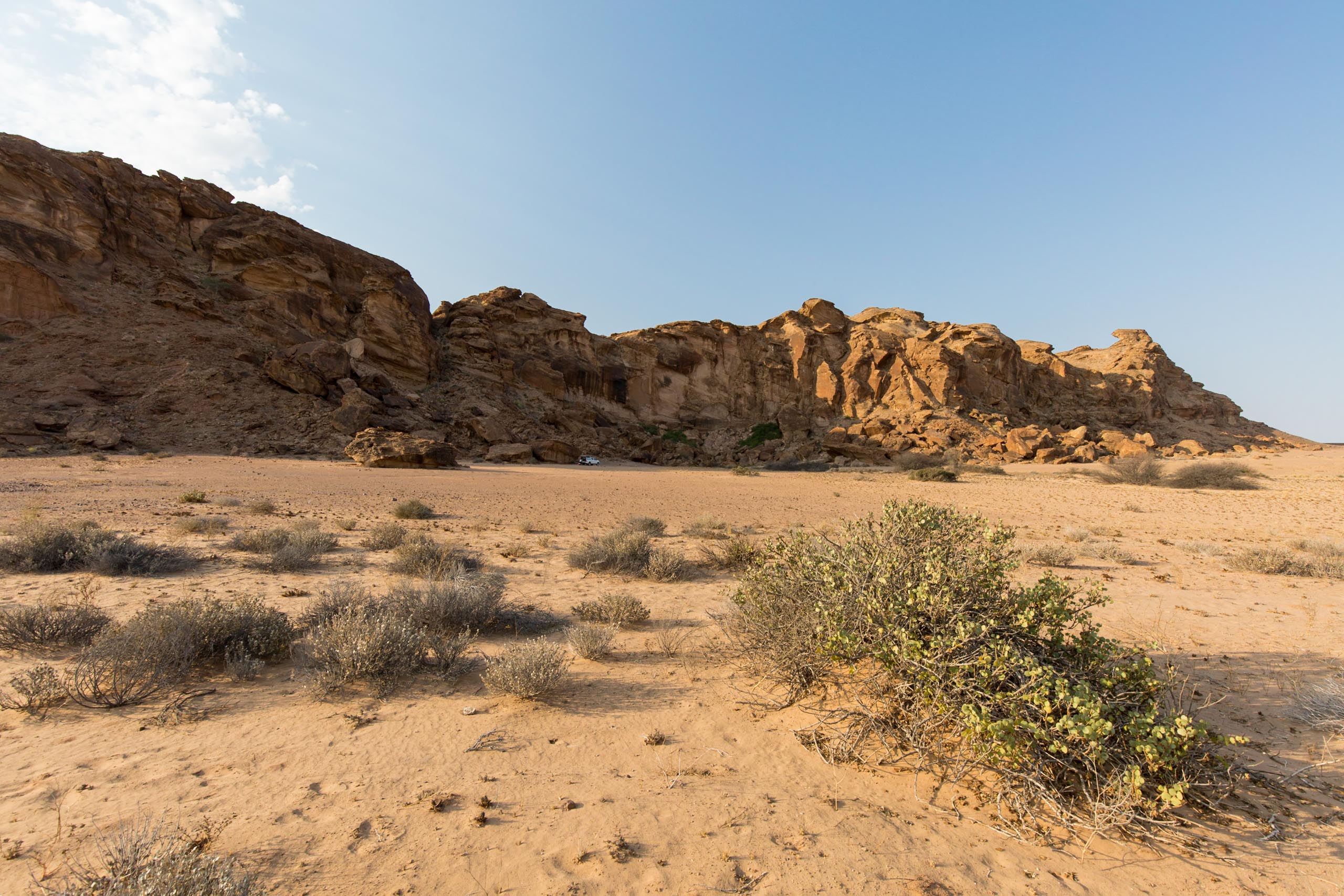 Fast-forward: this was a camping site straight from a movie..! I created a waypoint on my GPS, drove our guide back to De Riet and then returned to our camp site for the night, just as the sun started to set.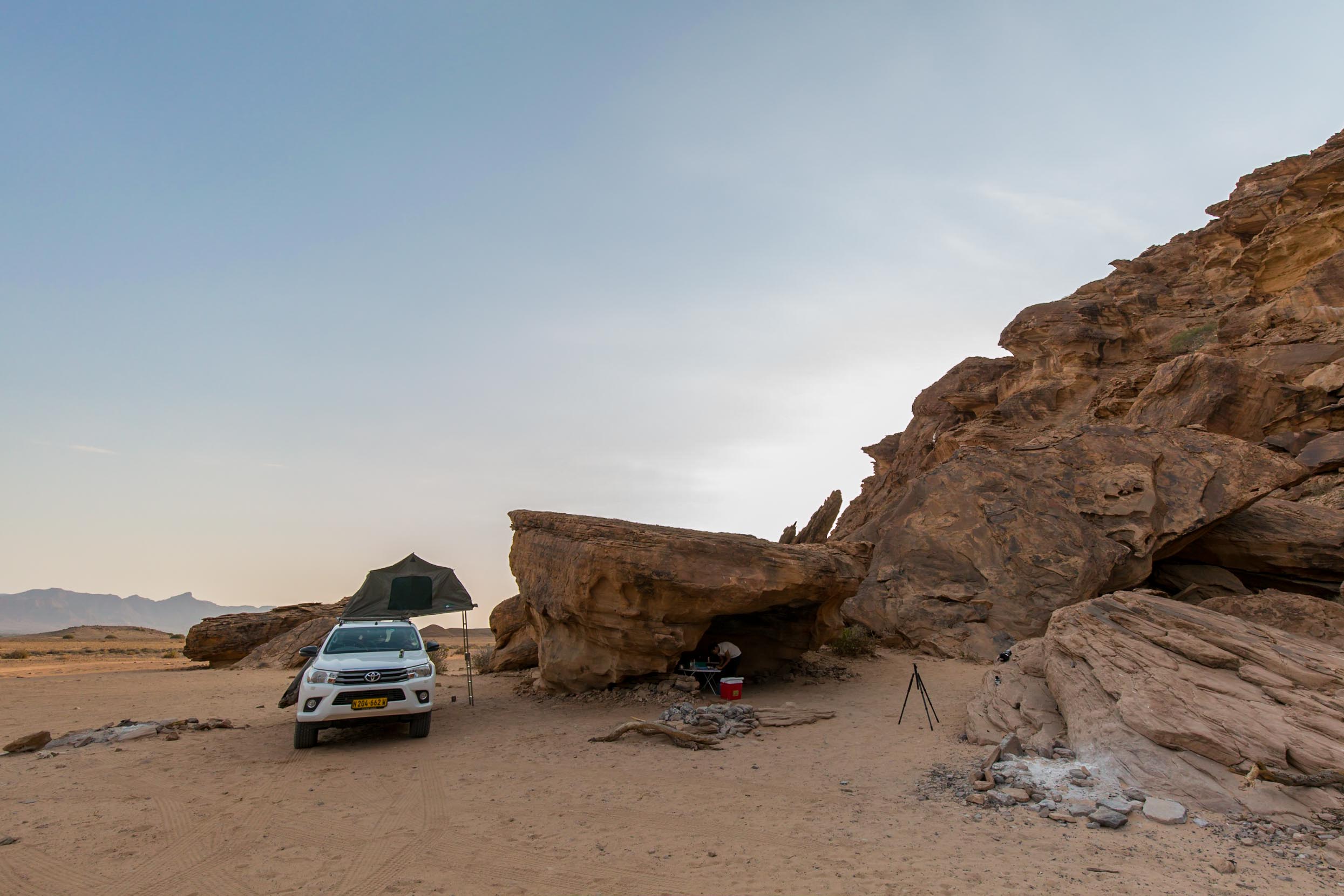 Our campsite at the foot of a massive granite ridge, next to an ancient cave used by the bushmen.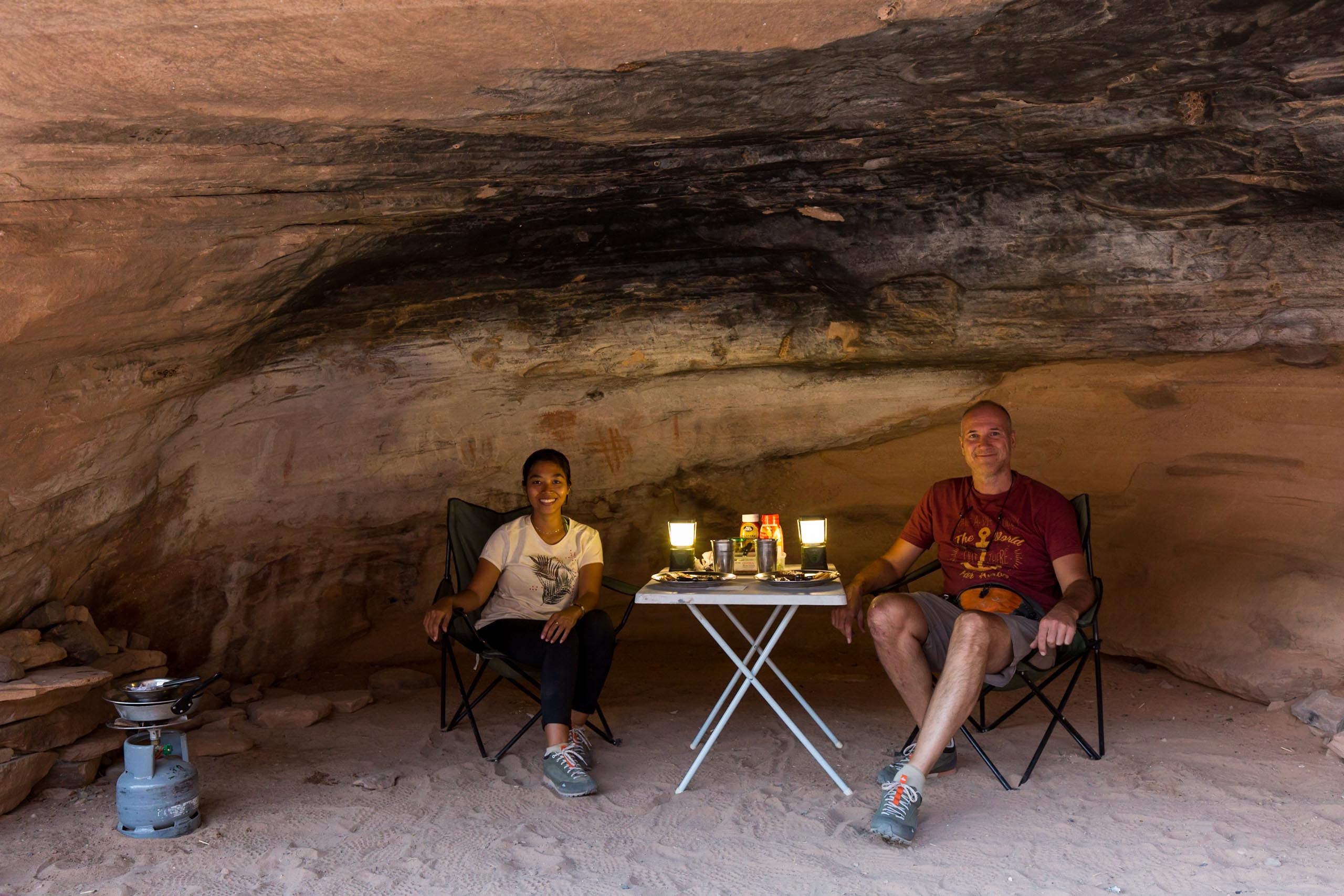 Diner in a cave used in the past by the traditional bushmen; the cave's ceiling is covered with black soot from fires and at the back of the cave the bushmen left some rock paintings.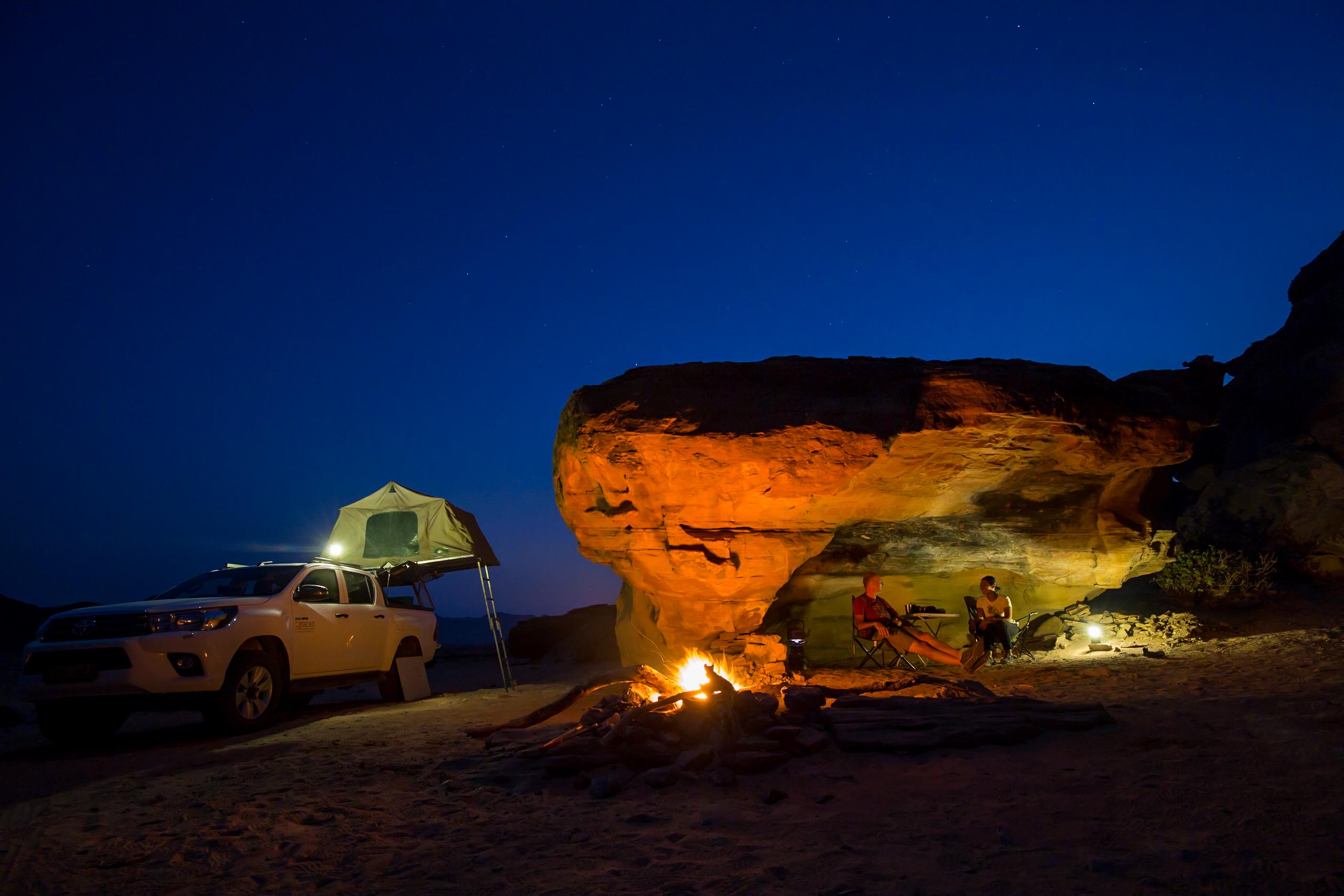 Another perfect Namibian night, camping in the wild under the stars somewhere in the Huab riverbed, far away from the nearest other people. The bushmen knew where to hangout!
Day 5 – 7 October: Huab riverbed
Early morning we drove straight to a couple of nearby sand dunes. We had passed these the day before and thought it would be a perfect place to wait for sunrise.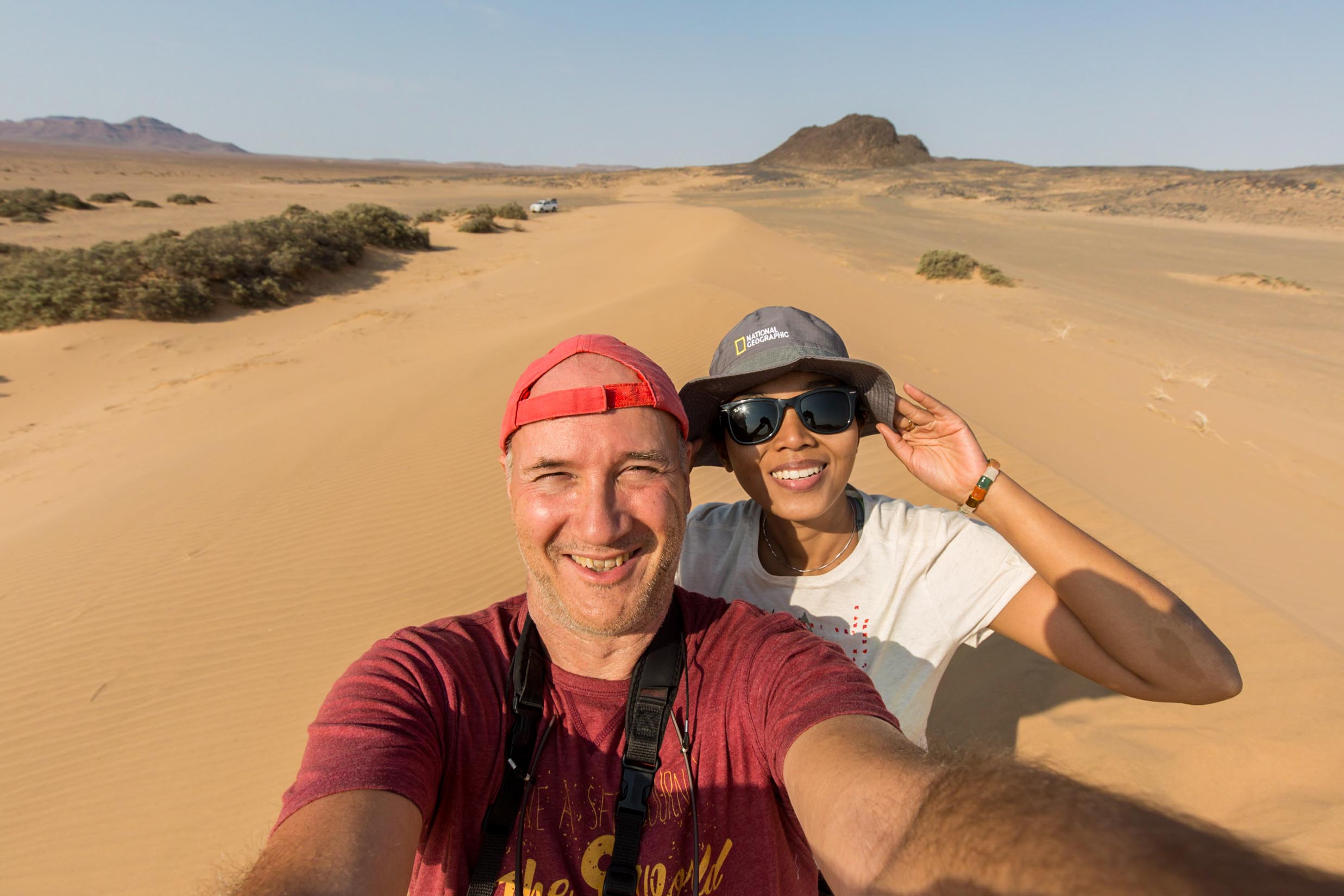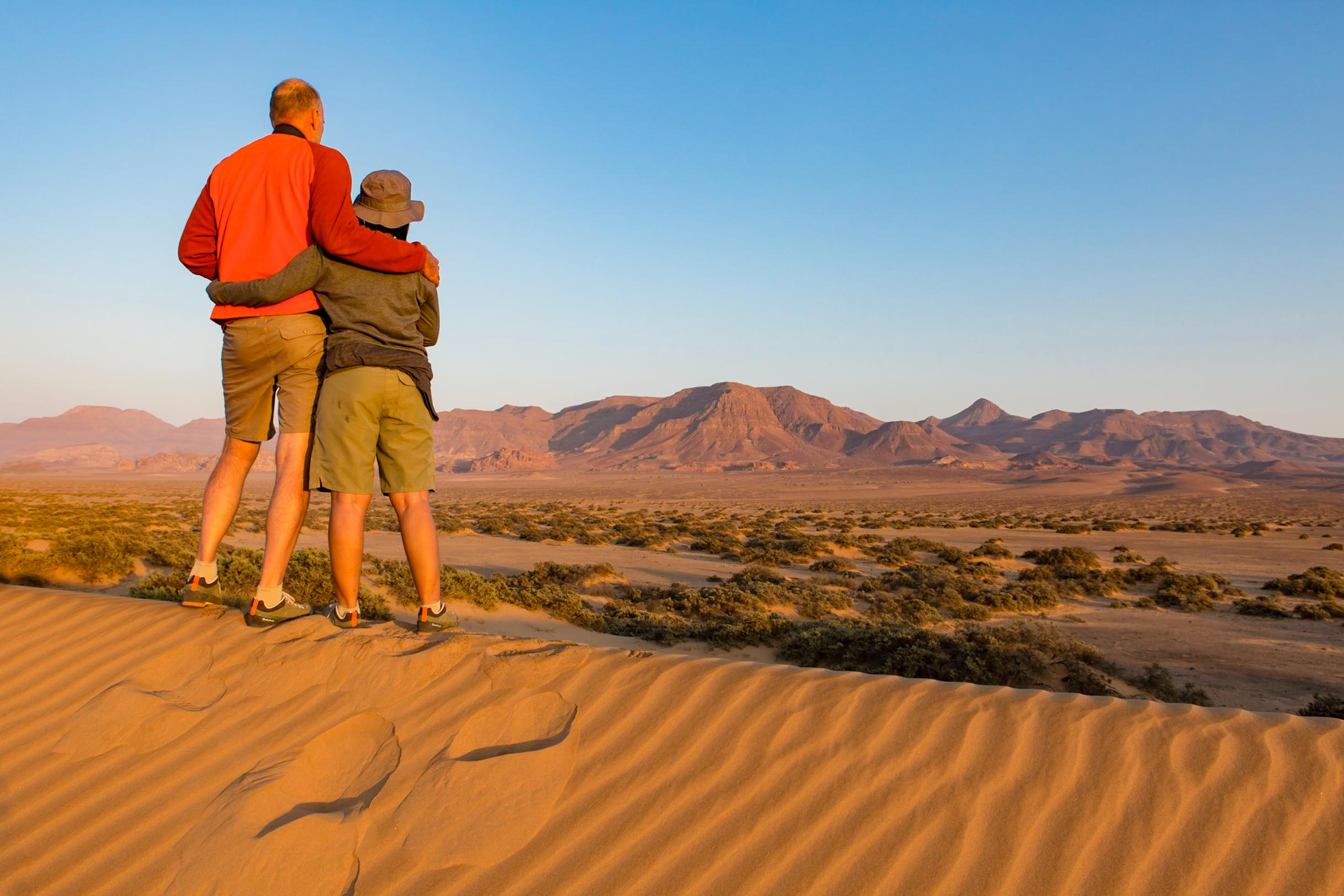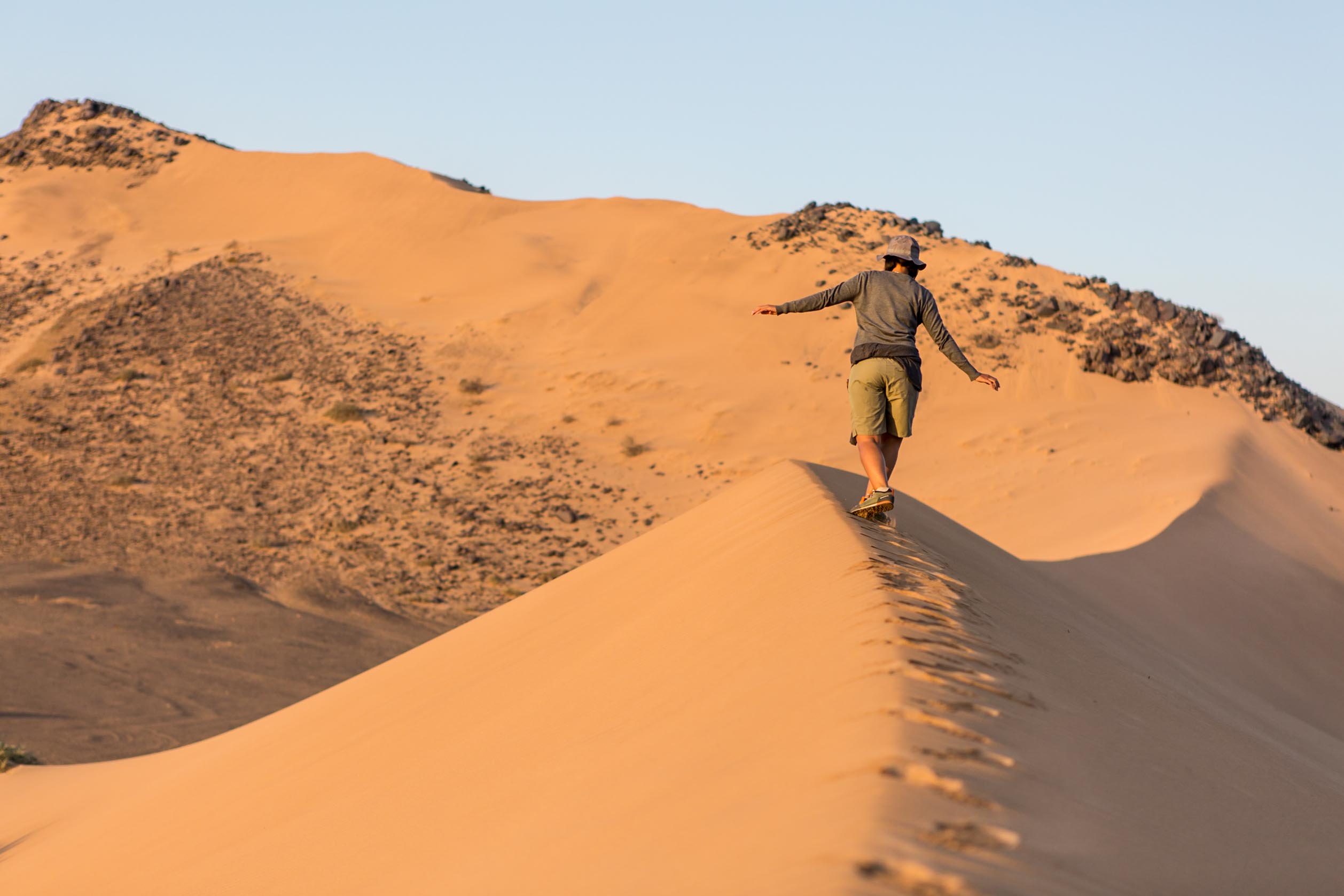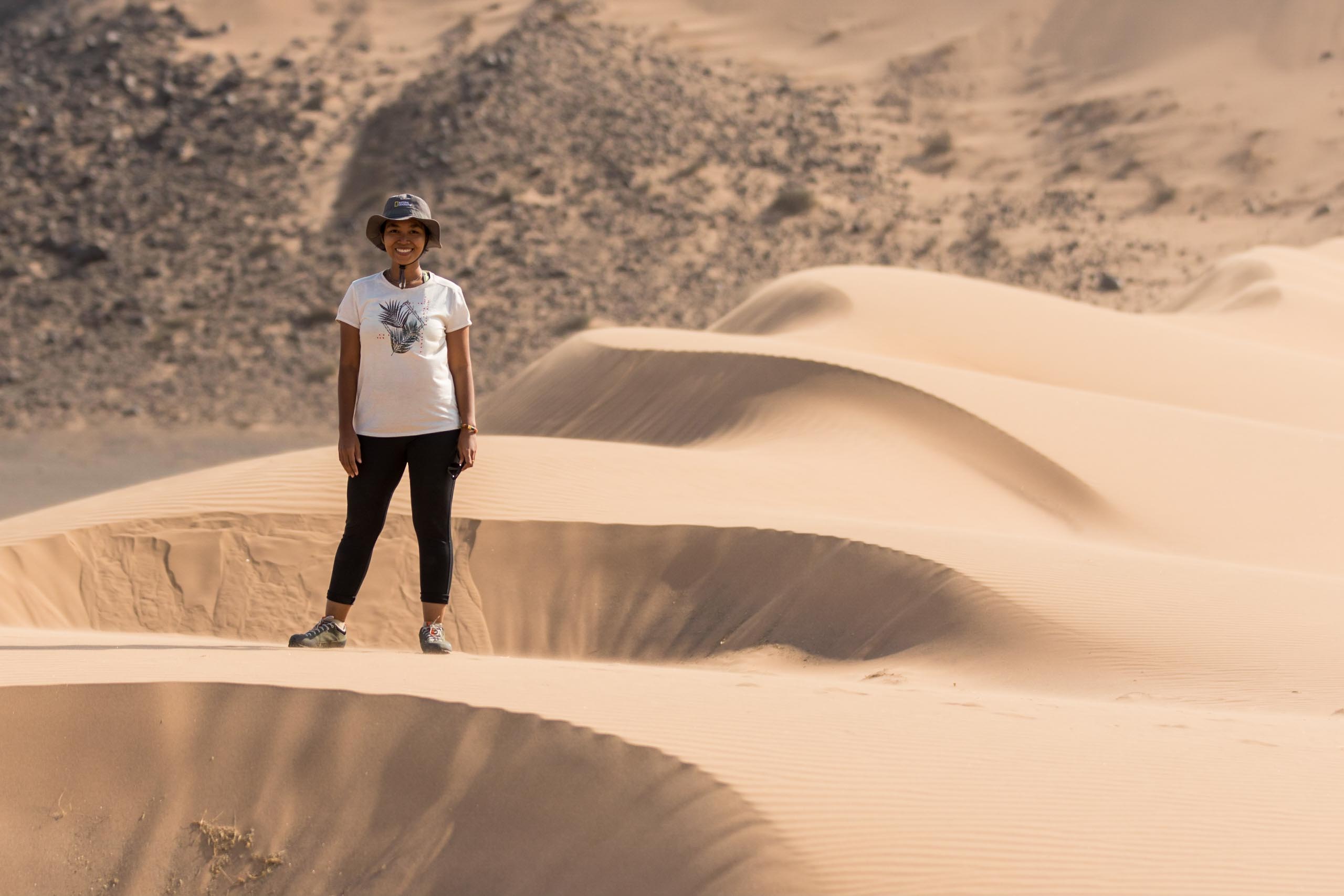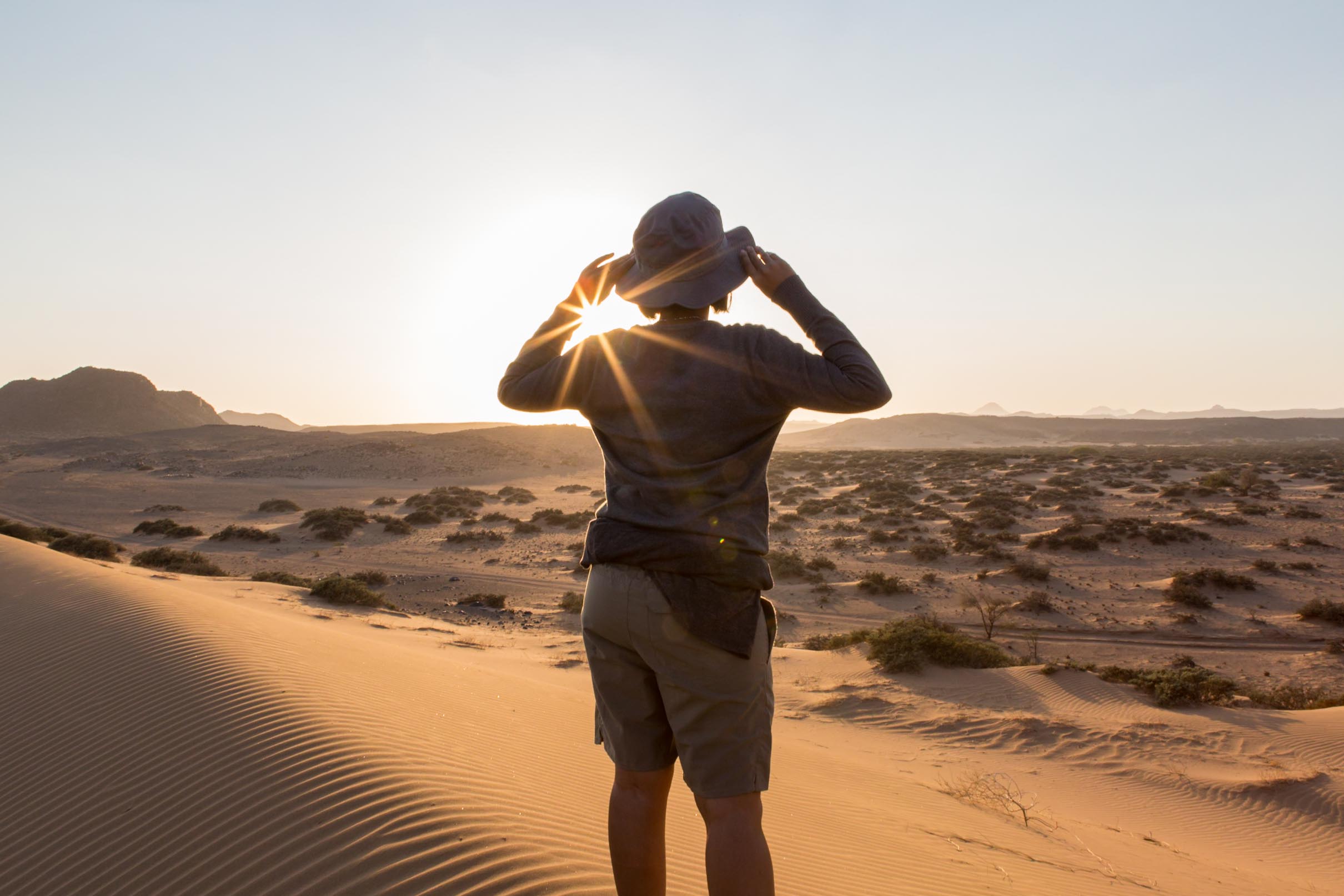 From the dunes we drove back to the Huab riverbed, to try to find again the desert elephants and explore some of the smaller riverbeds and sand dunes in the area.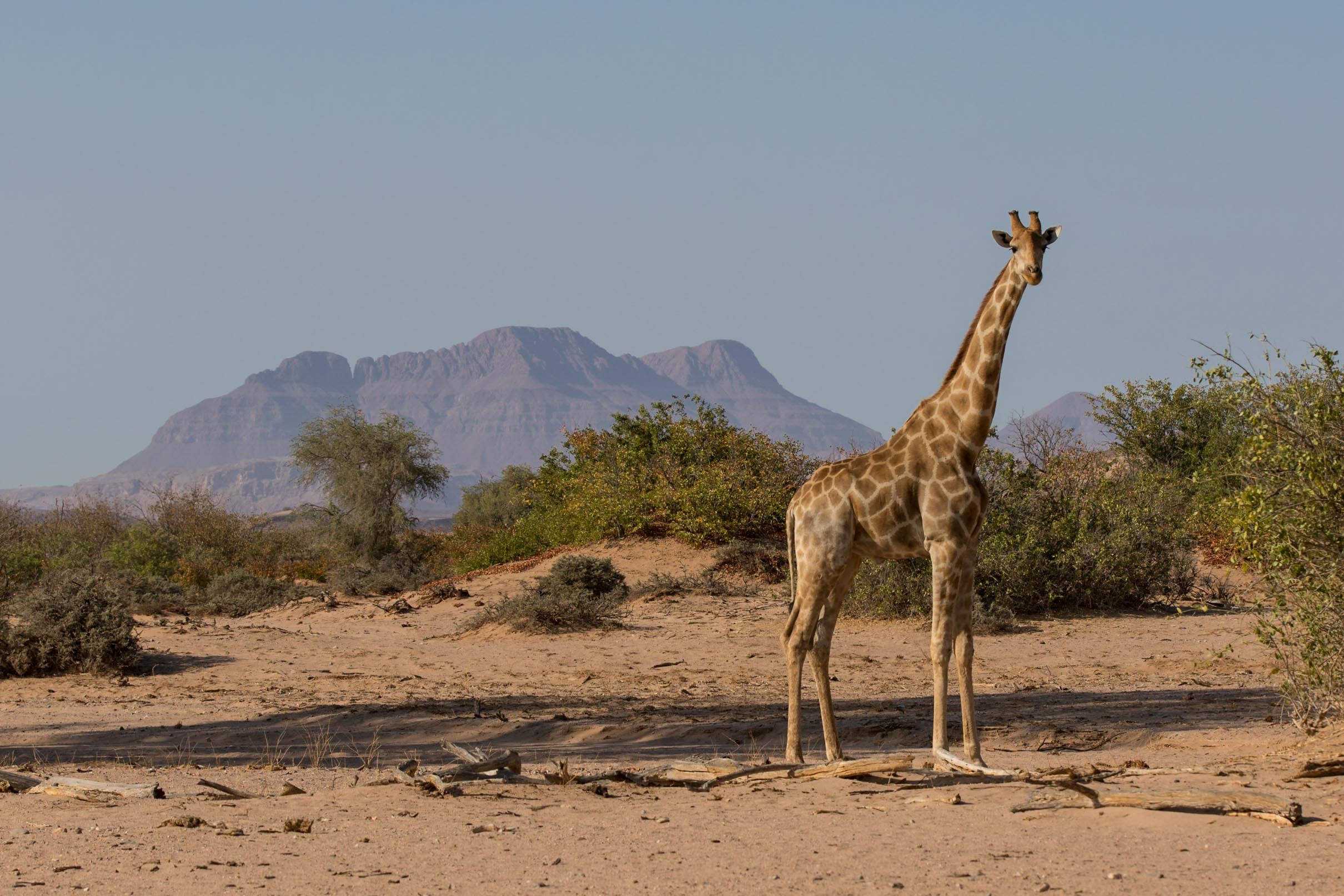 The dry riverbed was home to quite a lot of giraffes. They weren't very skittish, I guess because the locals from De Riet regularly let their goats graze nearby.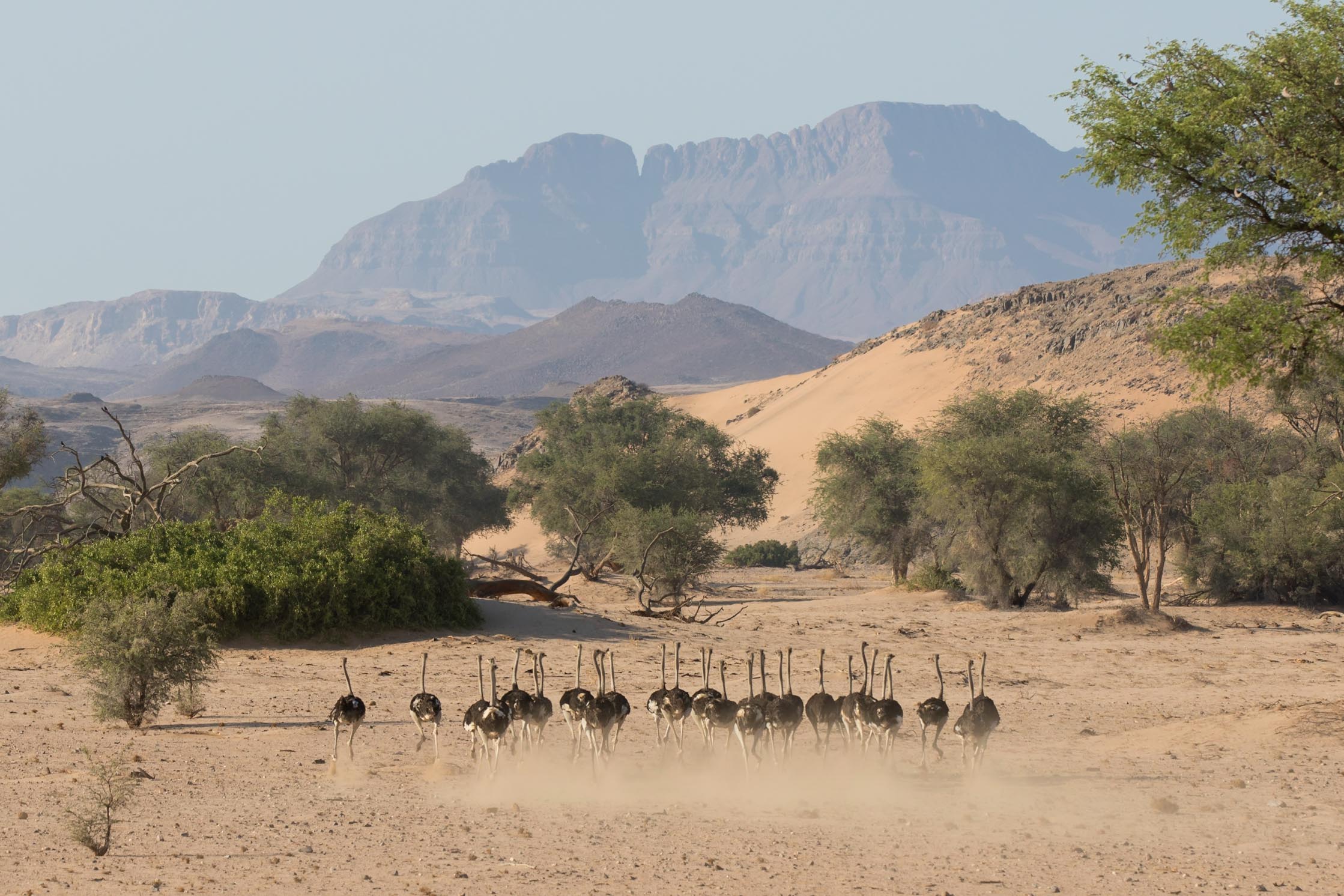 We regularly came across large flocks of ostriches.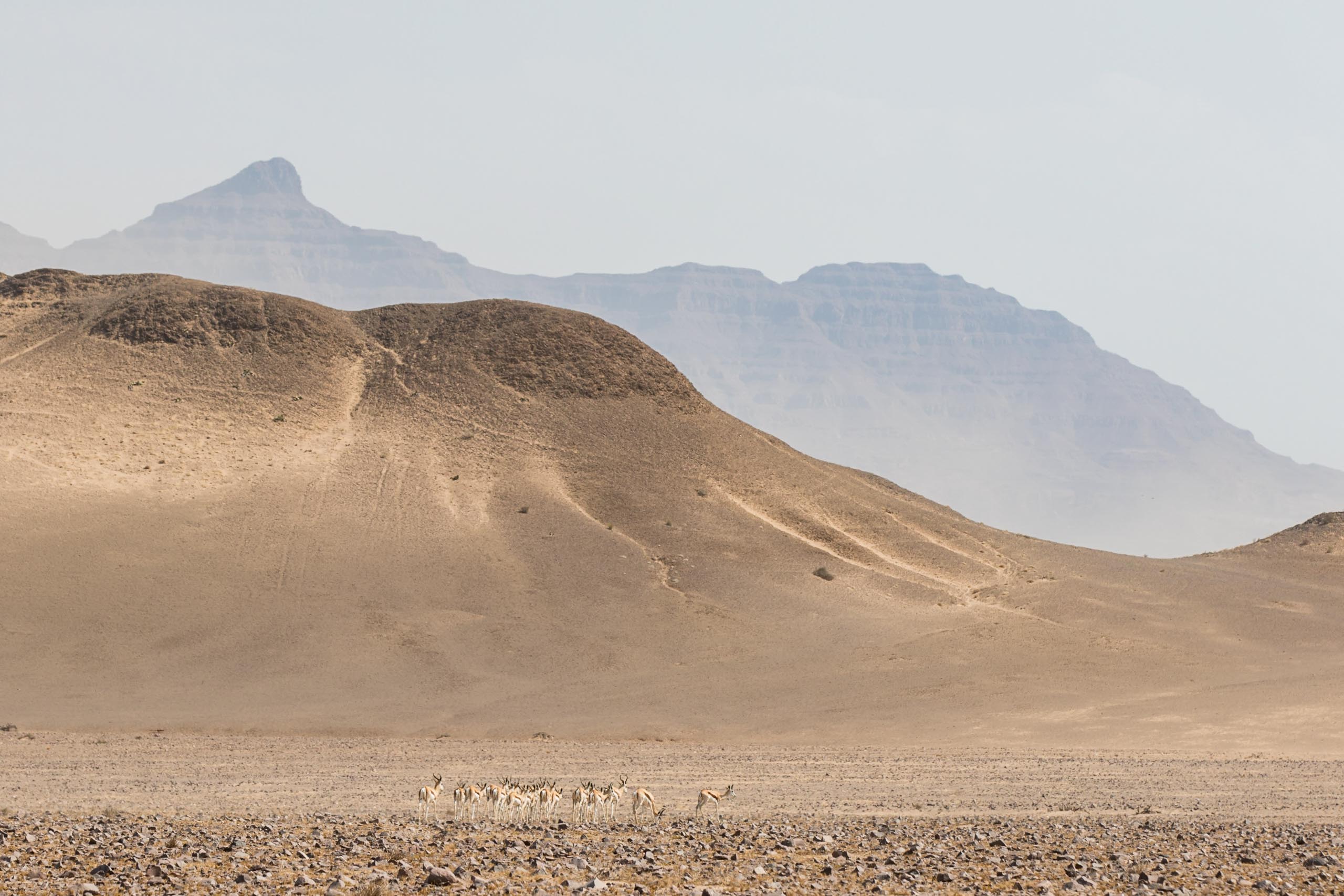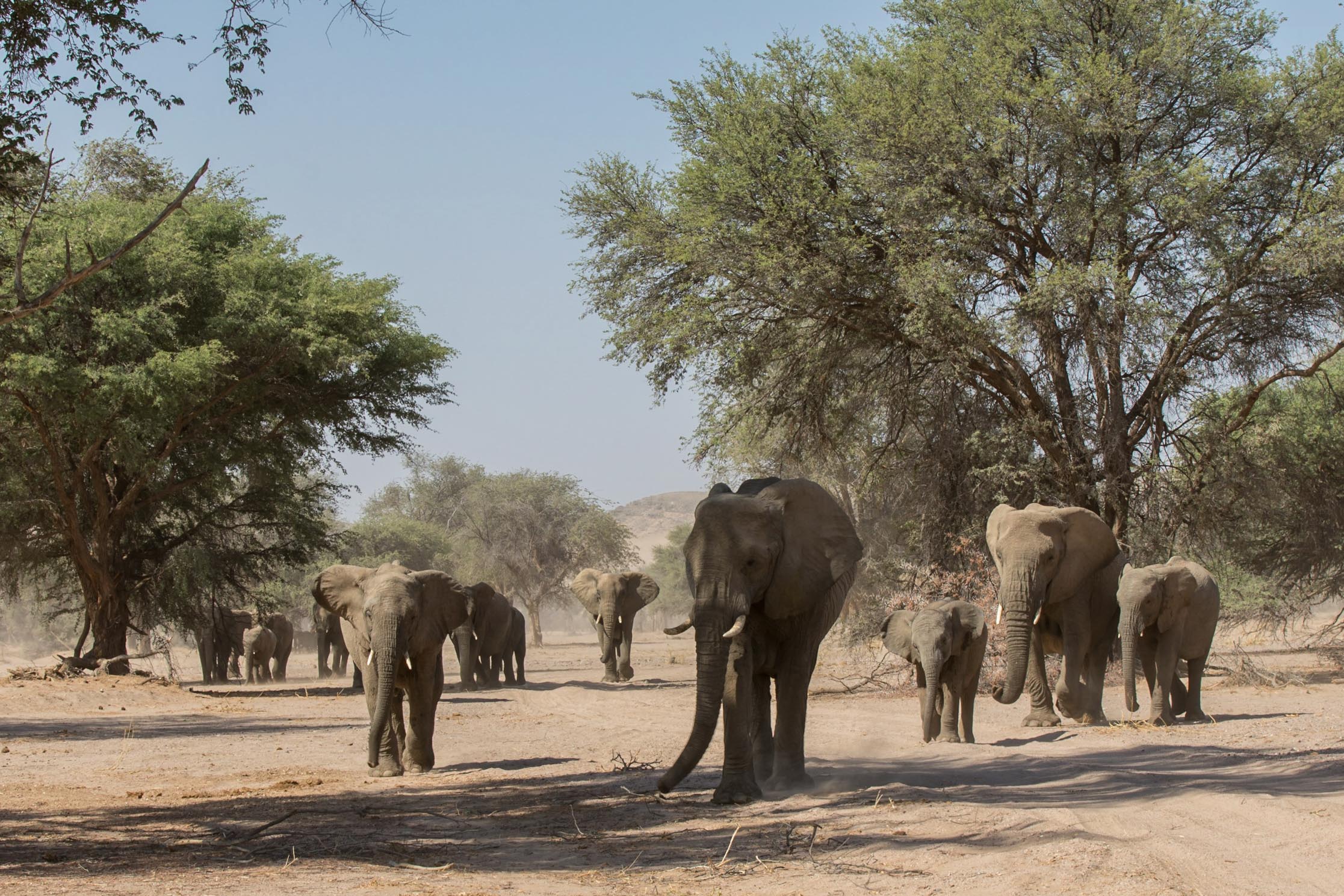 Time to spend some time with desert elephants again! We knew the direction they had gone the other, so it was fairly straight forward to find them again.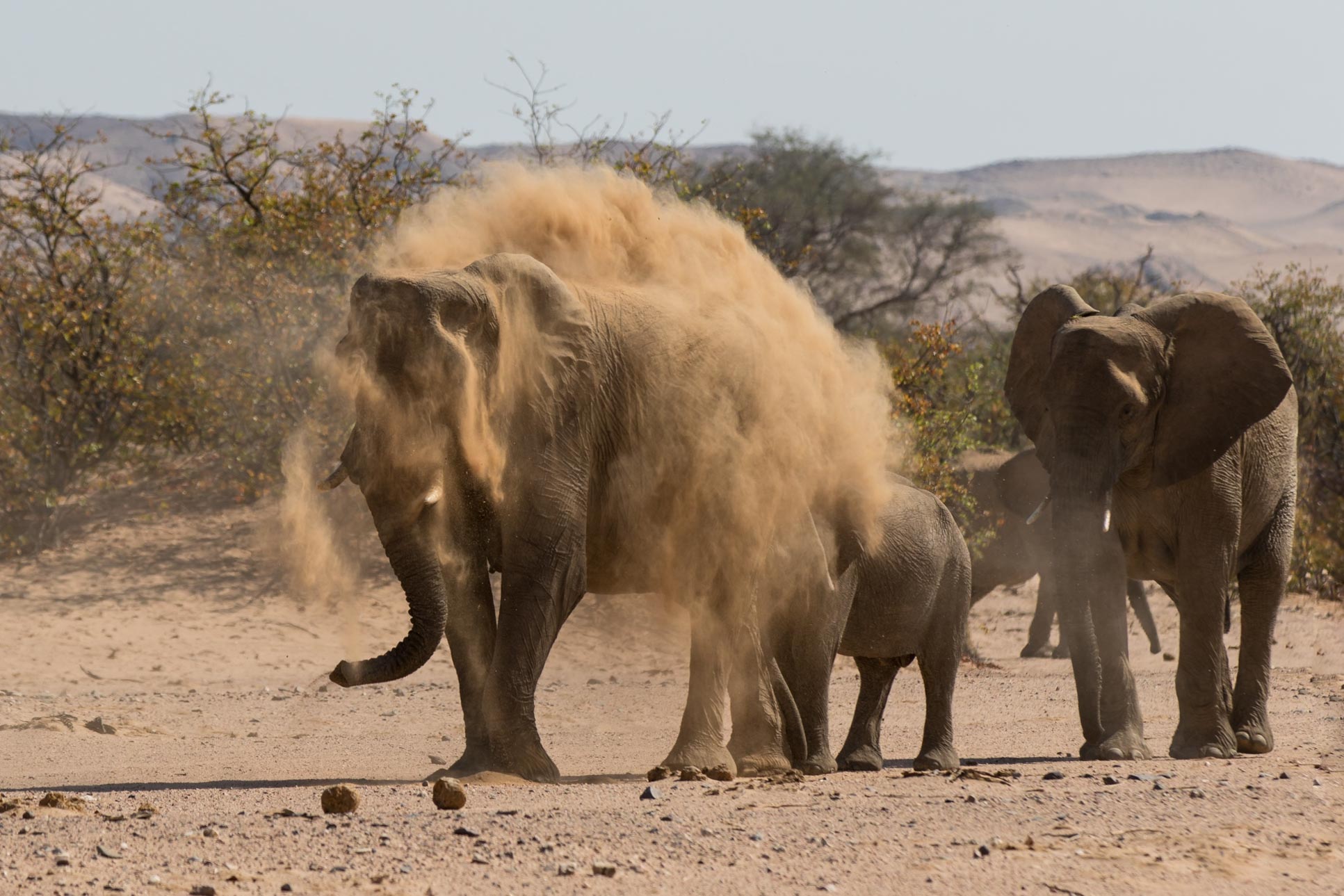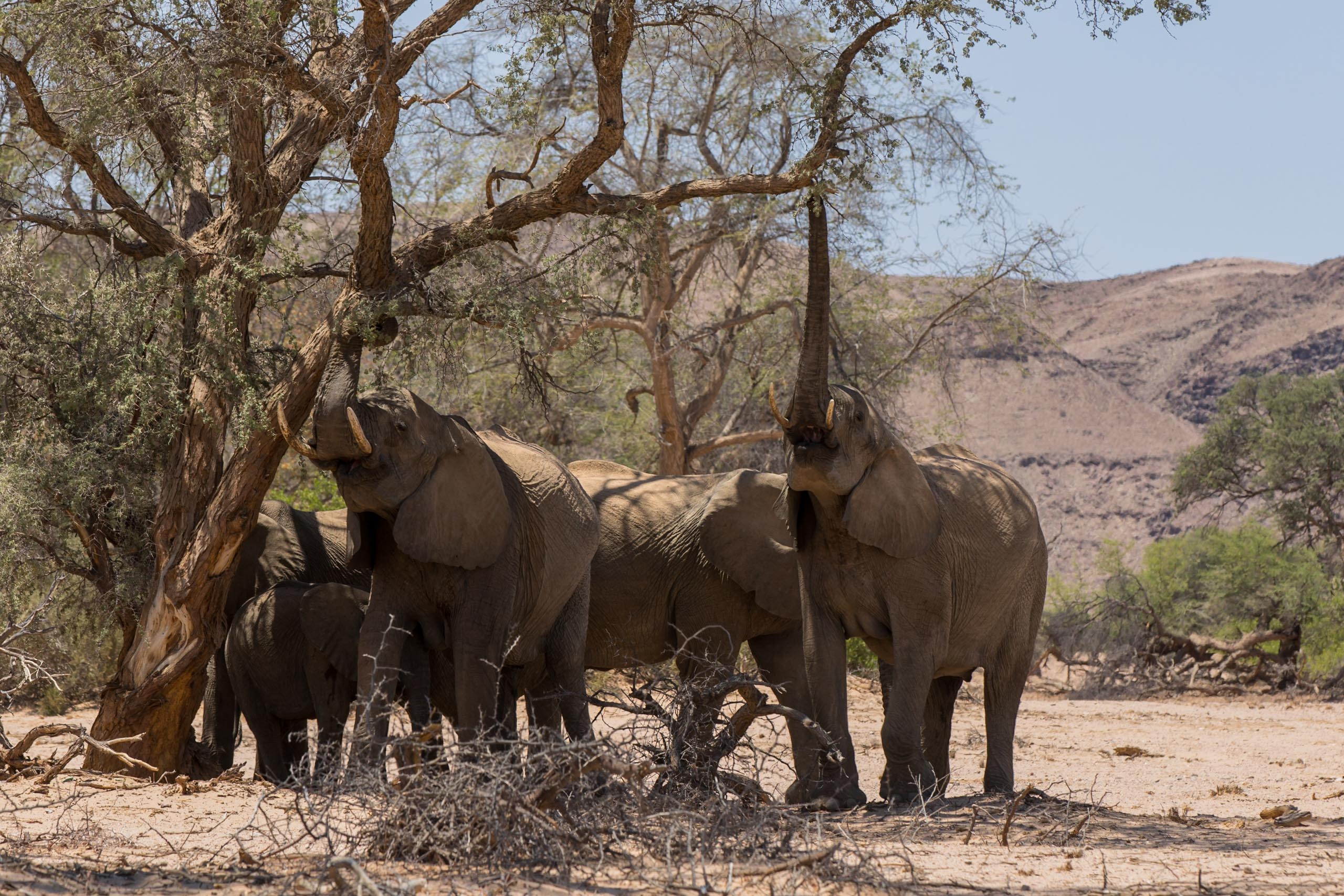 Feeding on one of their favourit fruits, tamarind.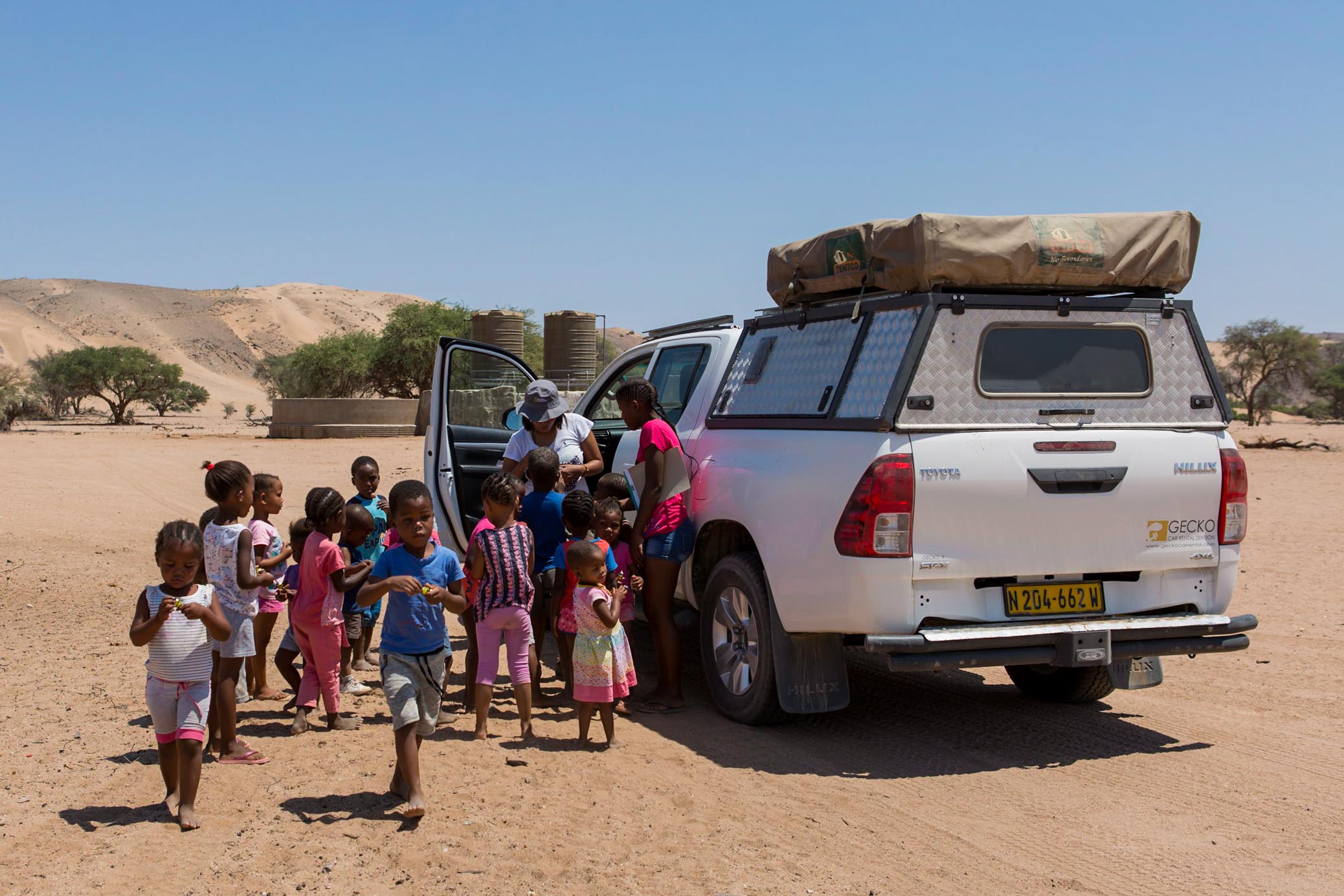 A day earlier we had promised some of the kids in De Riet we would come back to visit the village. A big bag of lollies was much appreciated and a great ice-breaker.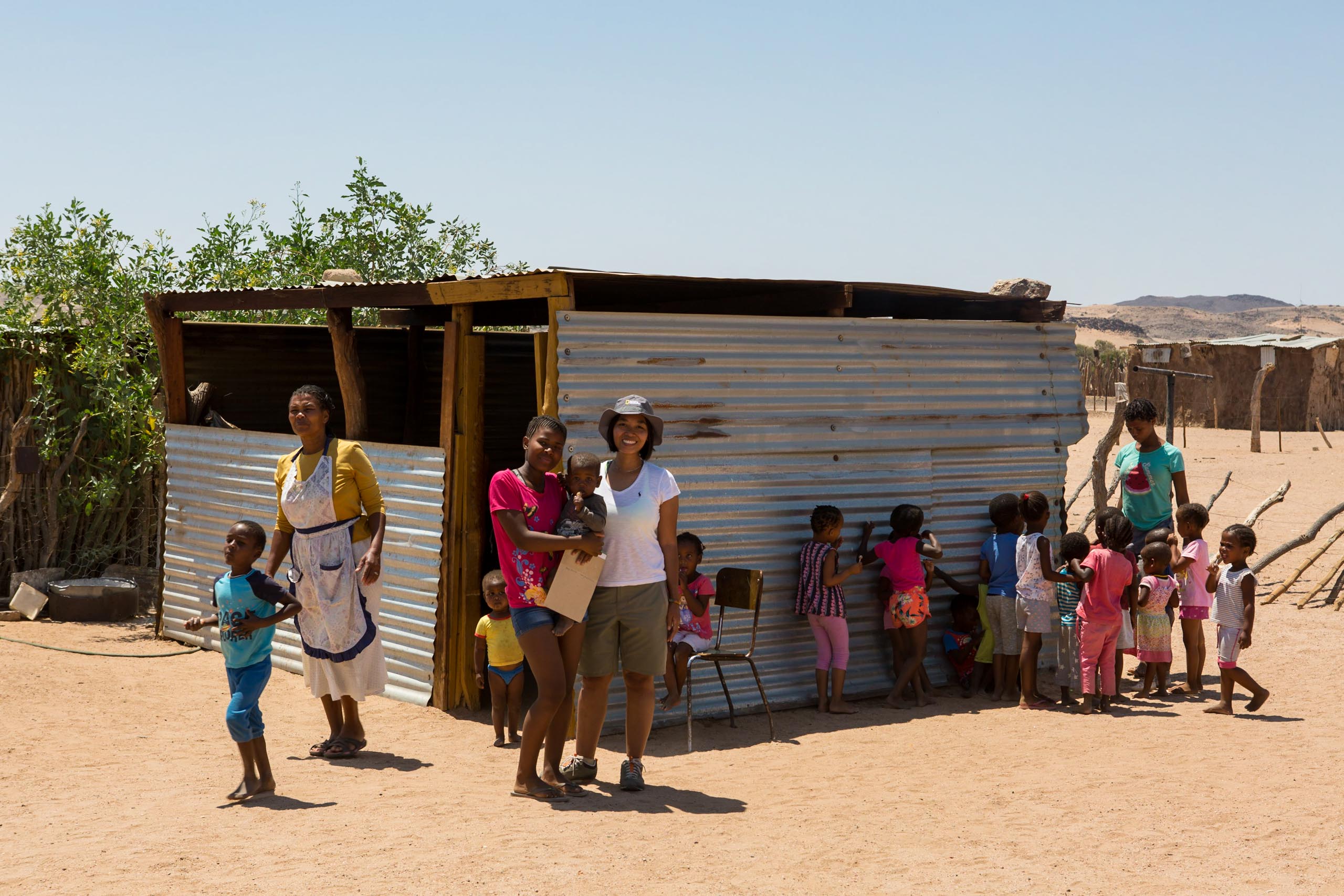 The village kitchen. The village is regularly raided by desert elephants in search for food, so the village food supplies are mostly kept centrally. Easier to defend…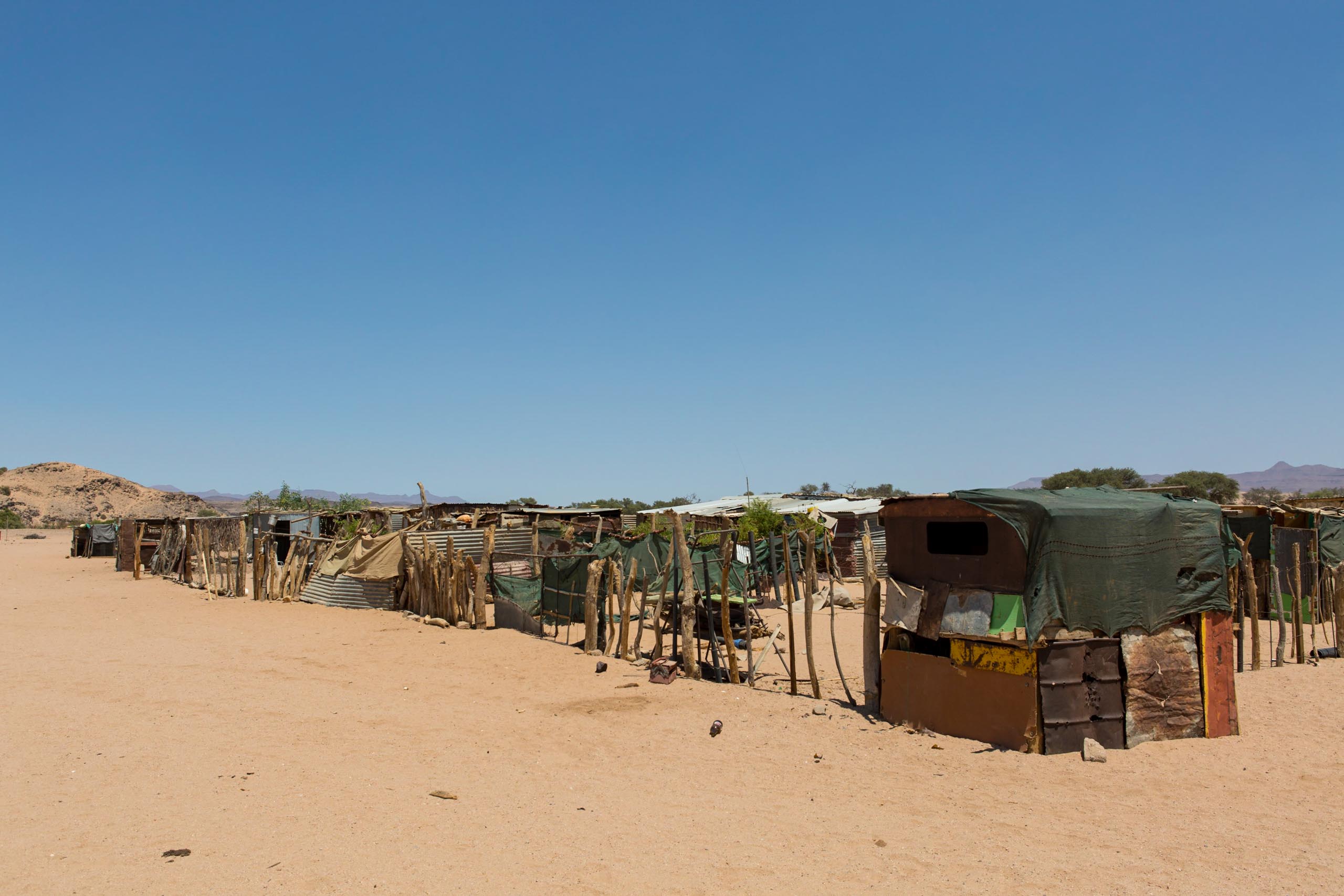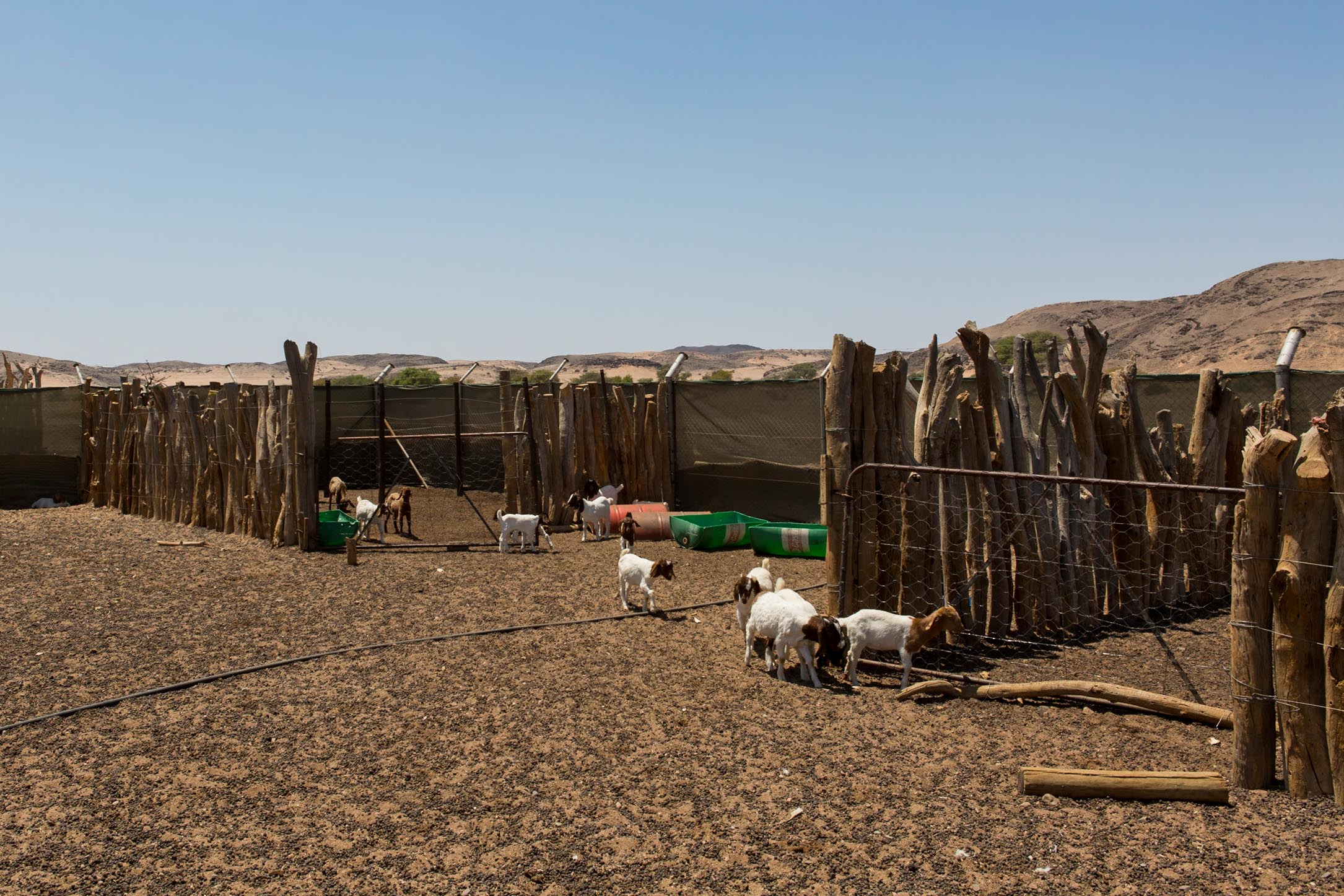 All goats are now kept in a single large enclosure with a iron fence, covered with thick canvas. This is agains desert lions, which regularly broke into the more vulnerable traditional individual family goat stables, sometimes killing dozens of goats in a single night.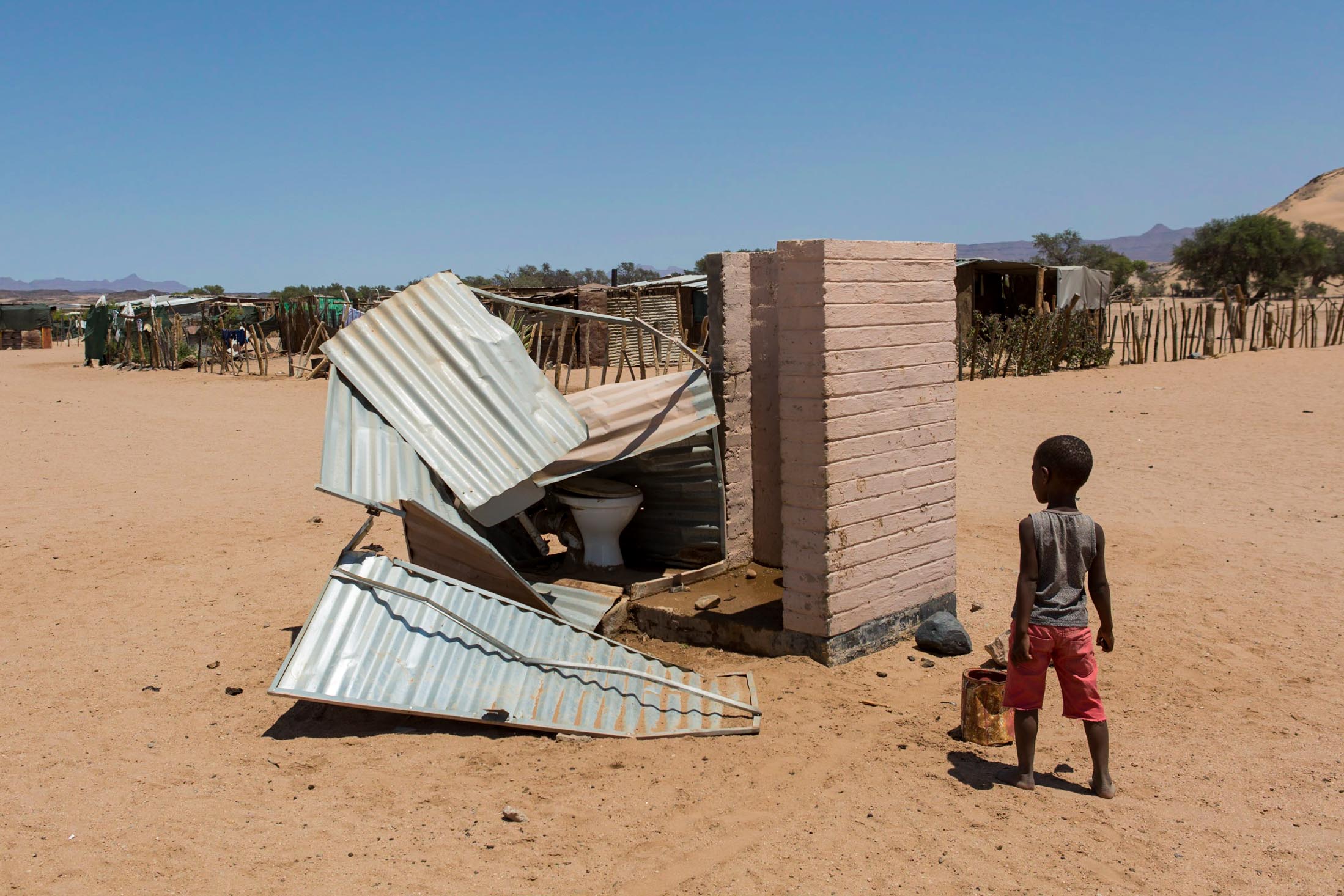 A toilet, probably built by an ignorant NGO, destroyed by desert elephants.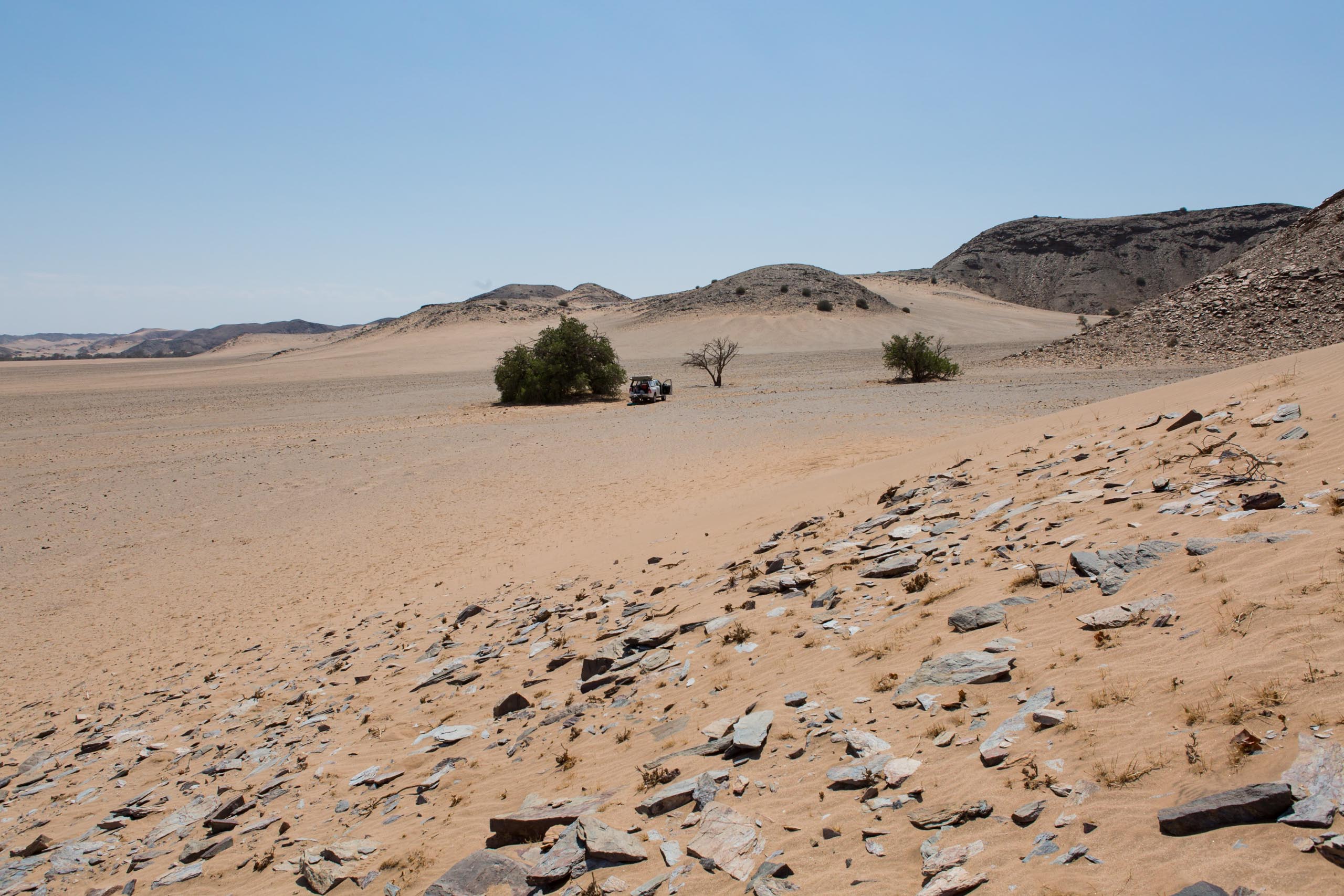 Time for lunch. We had seen fresh lion tracks the day before and decided to stay away from the riverbed itself, with too many trees and bushes to perhaps overlook some lions. These few lone trees at the edge of the valley seemed perfect, but just when we wanted to get out of our car I realised that the ground under the tree was covered with bones and skulls…! And was probably the perfect place for lions to spend a couple of days with a kill…!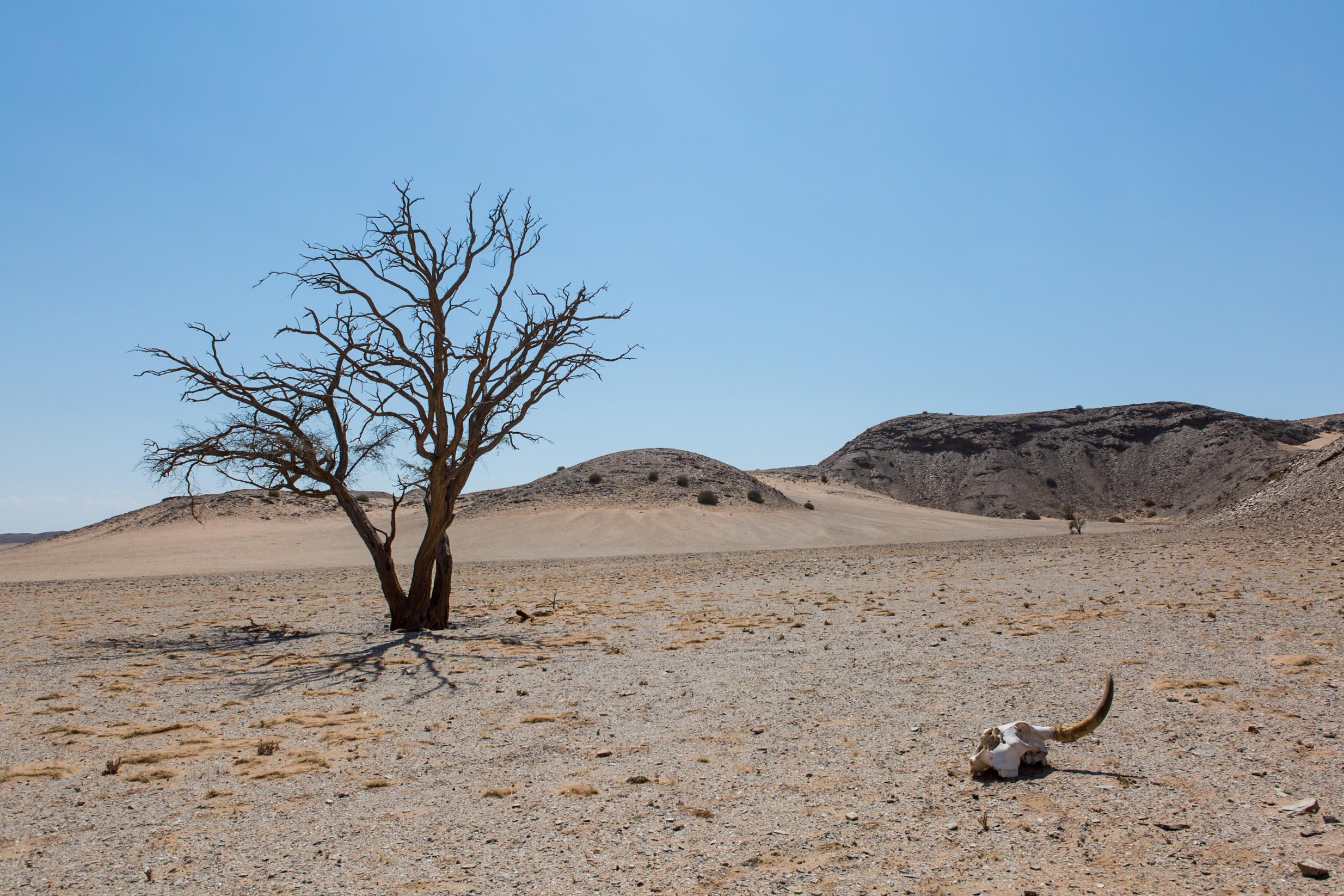 But, unfortunately, no lions!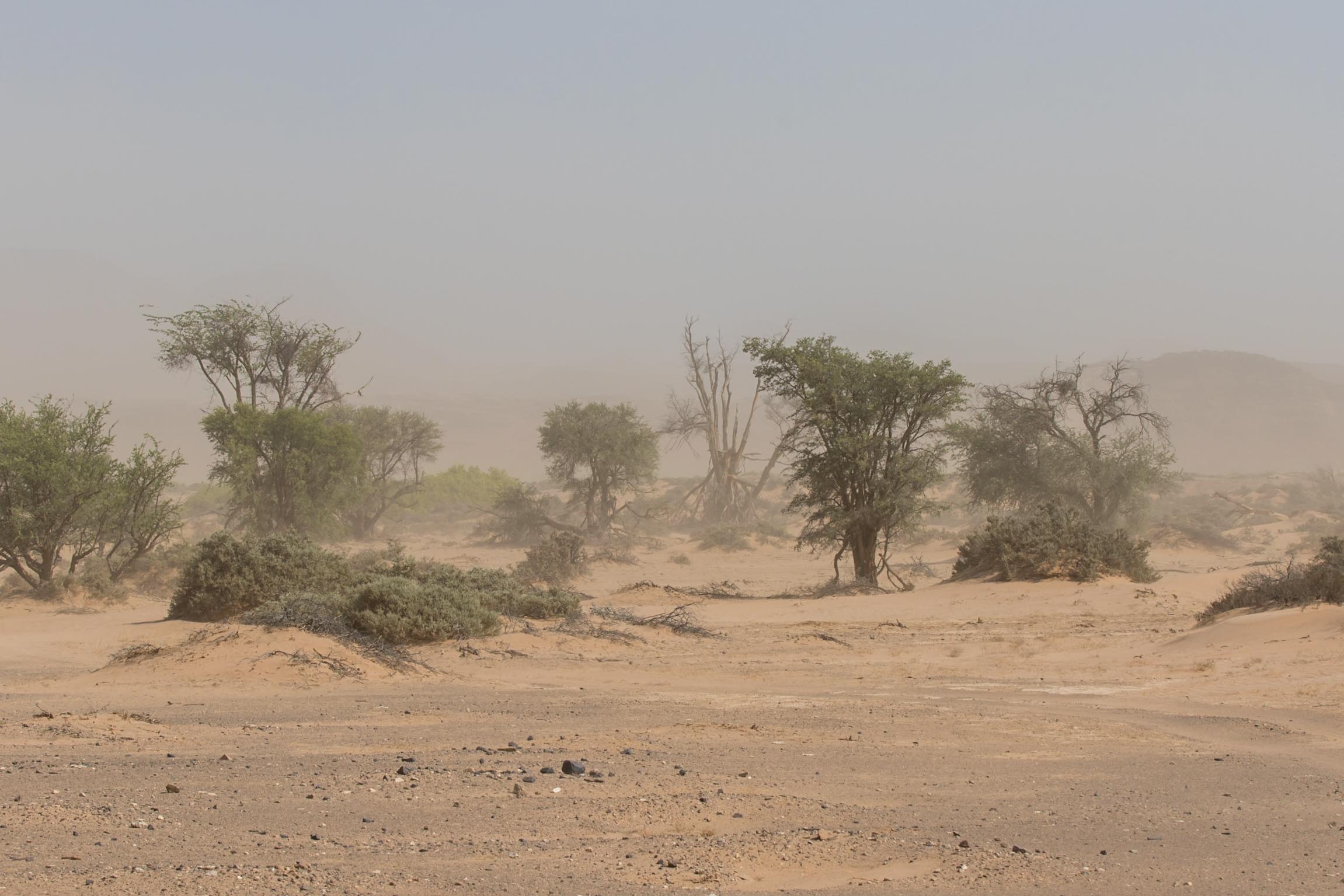 After lunch, the moment I was waiting for!
The day before we were caught in a hefty sandstorm and our guide had told us that this time of the year in the afternoon the wind would start to pick up and eventually create a sand storm blowing through the riverbed. So this afternoon I planned to try to find a herd of desert elephants, as I visualised them walk into the sandstorm, late afternoon, in beautiful afternoon light… That sounded too good to be true… Almost!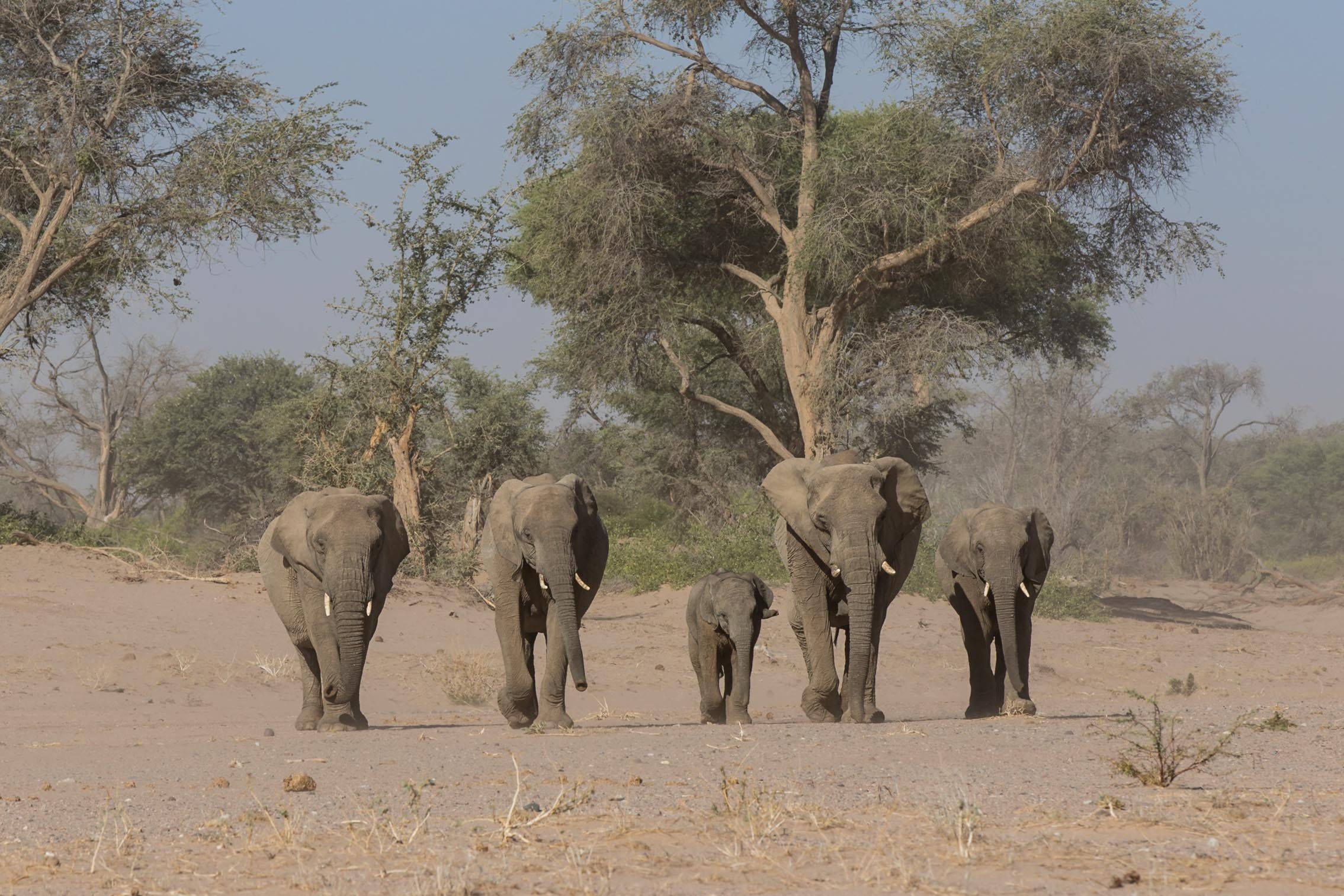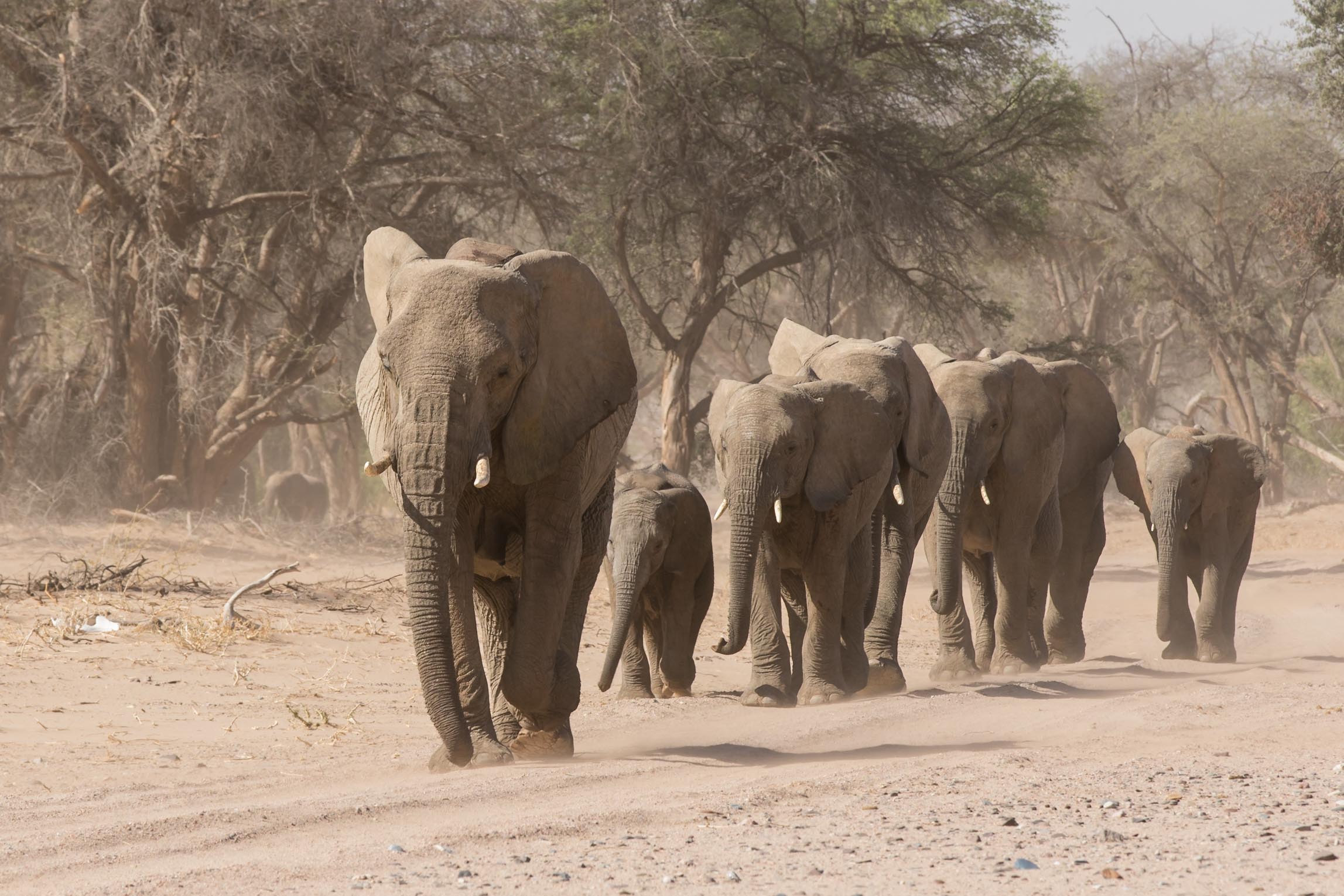 Waiting for the perfect moment… A nice line-up, sandstorm and afternoon light. Easier said than done.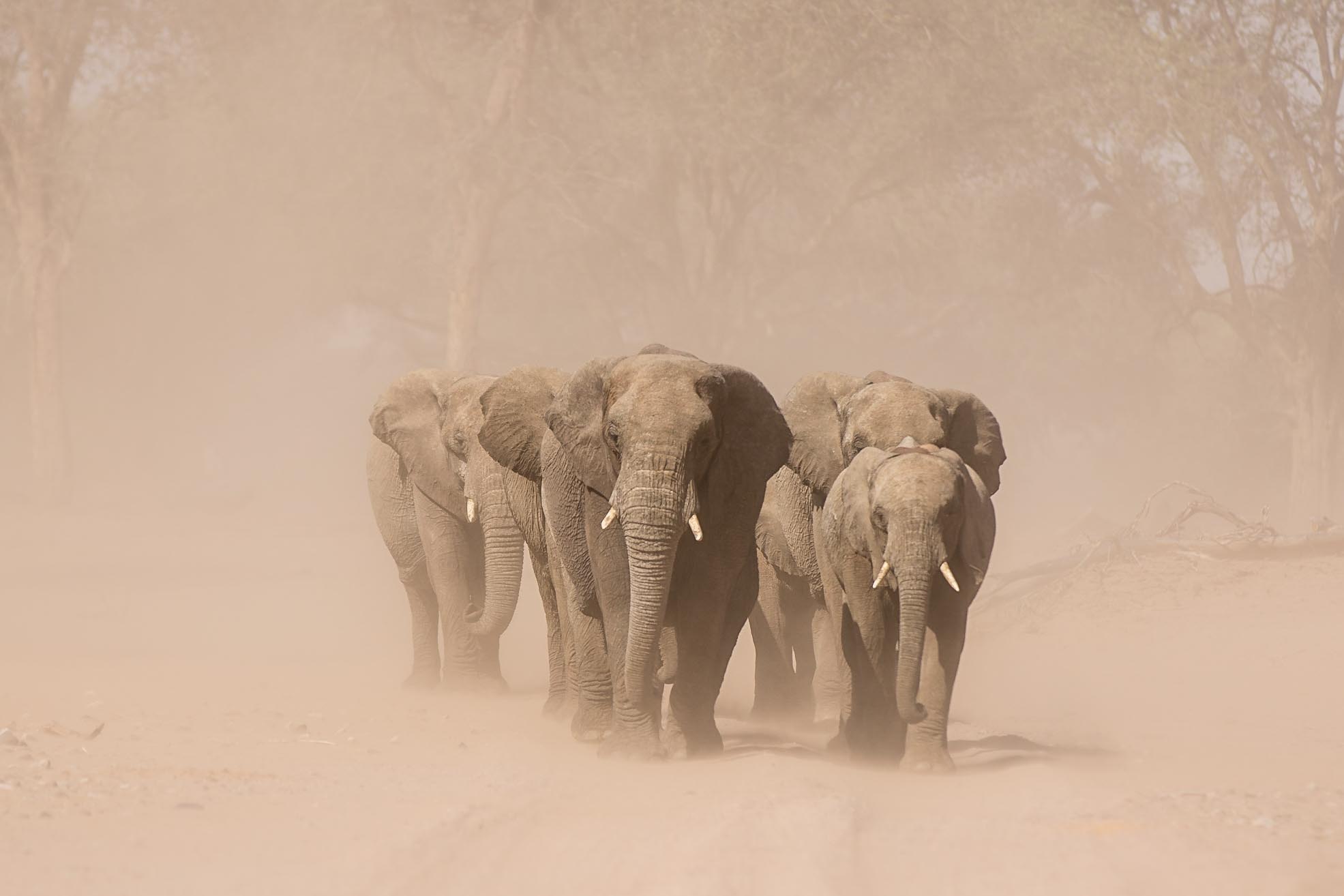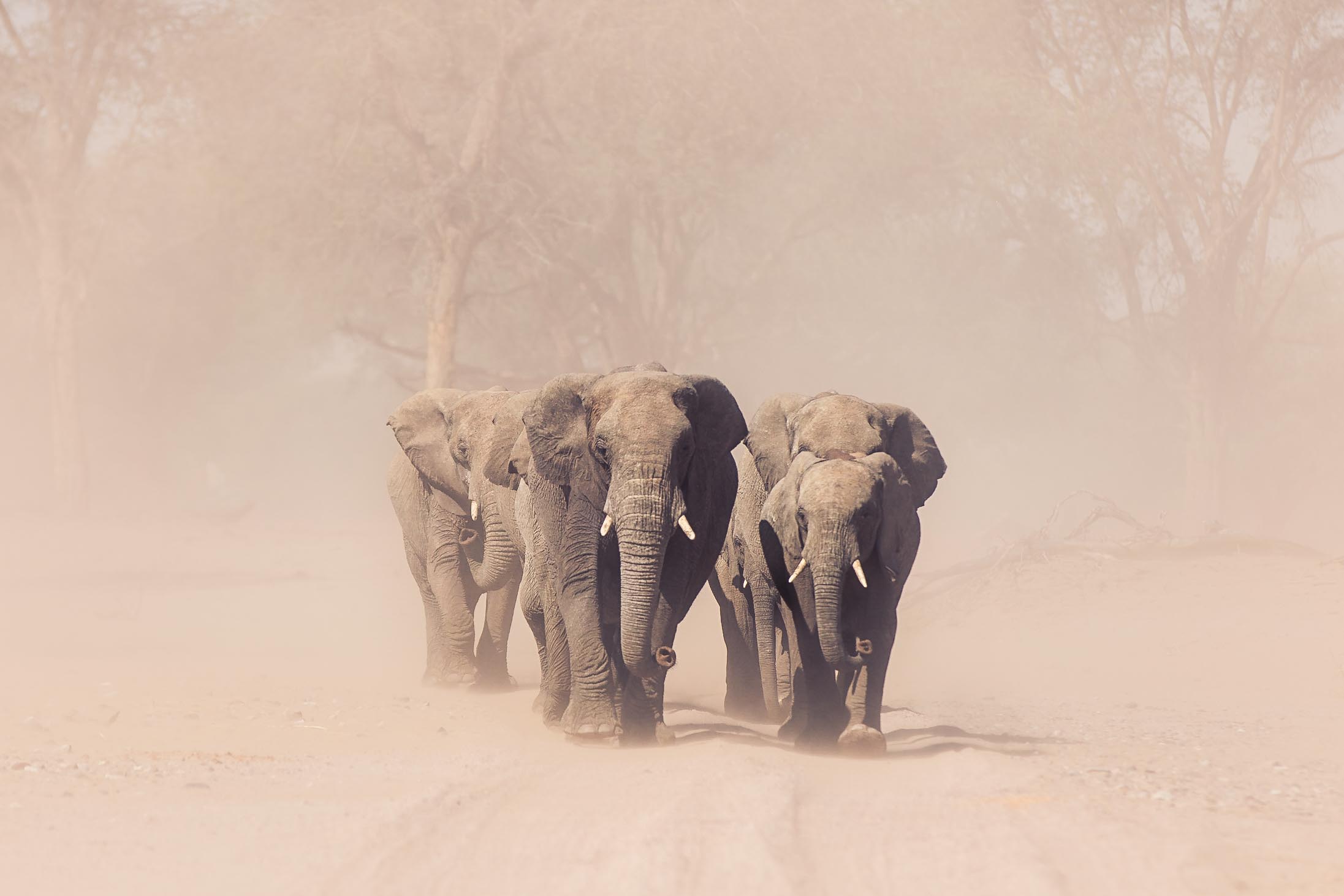 And then it happened…!
I got so excited that I simply couldn't hold my camera still and mostly forgot to check settings but, hey, these are not bad!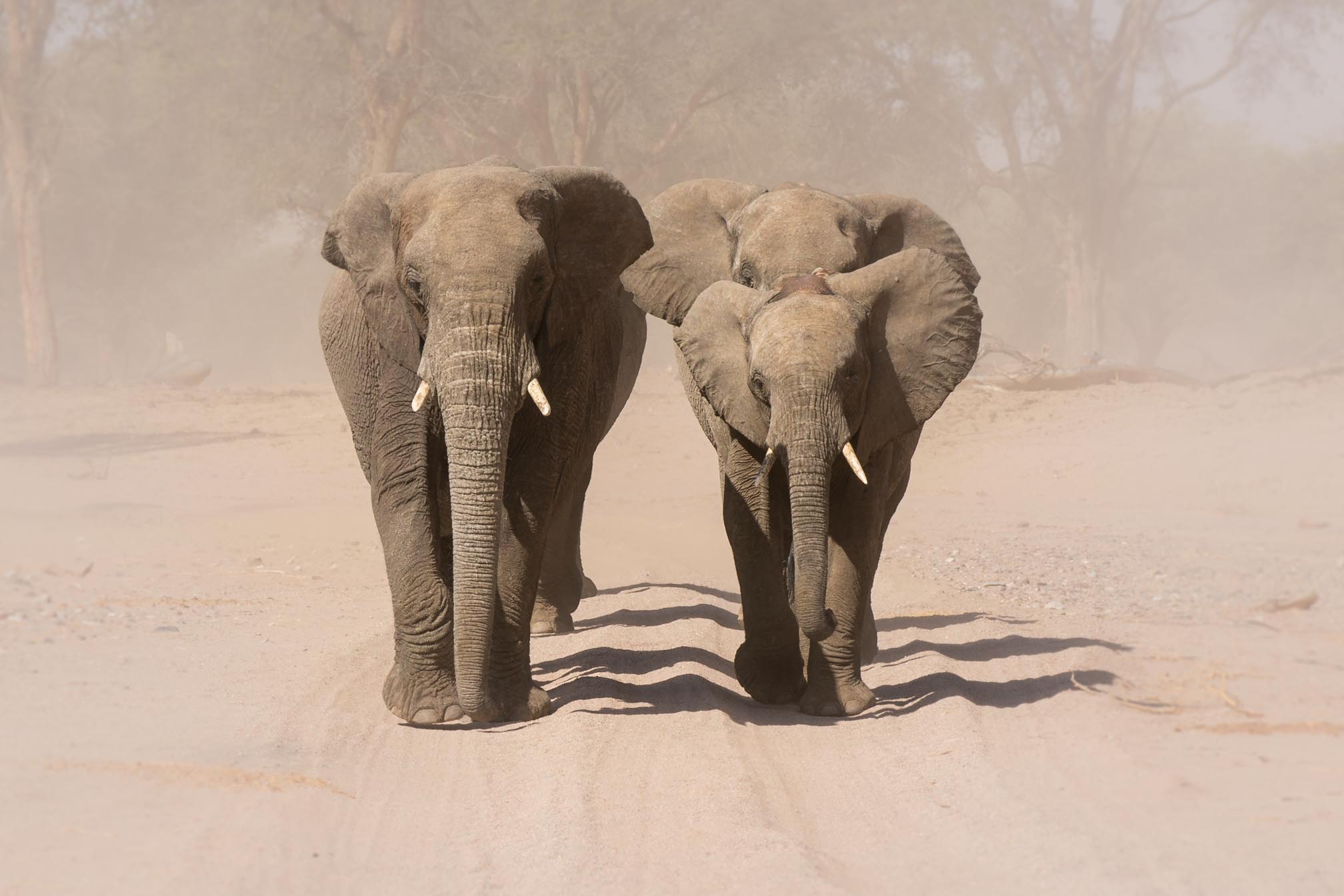 Again, what an incredible experience!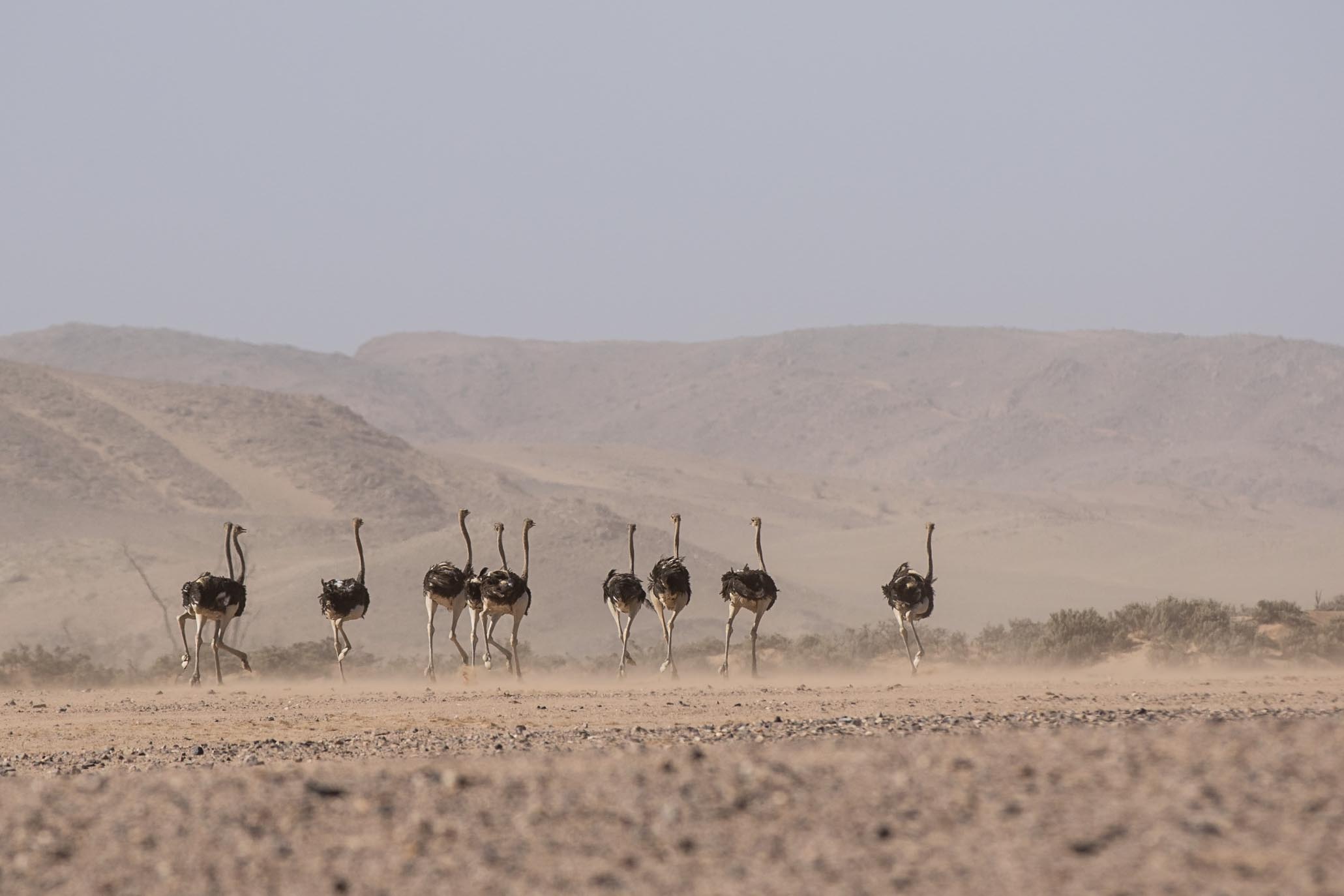 I tried to sneak up to this flock of ostriches, from behind some sand dunes, but they somehow found out… Or was it the elephants..?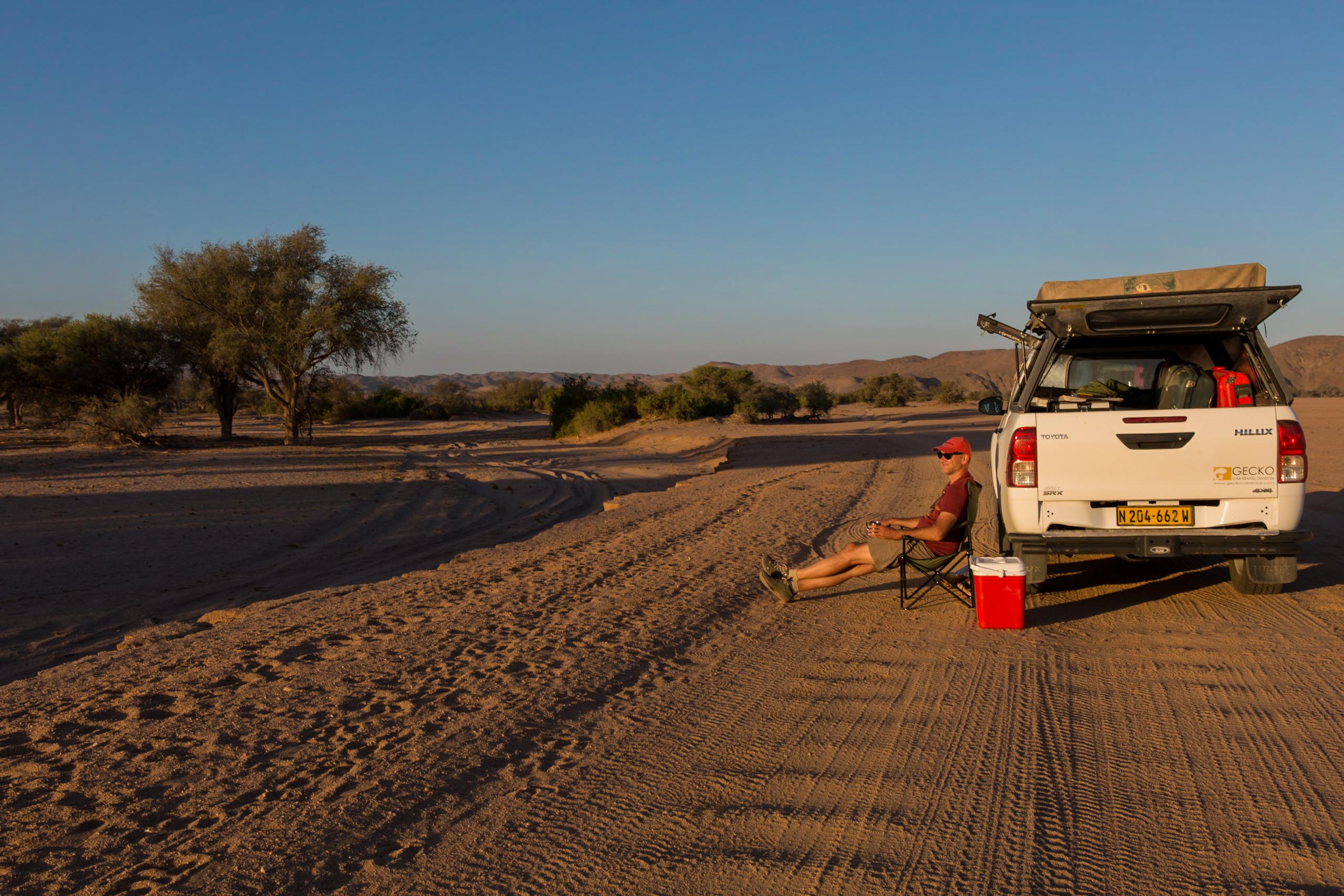 Time to find another place to set up camp. This time we wanted to be closer to the riverbed and perhaps see some wildlife pass-by at night. We still somehow wanted to stay on a safe side as well, and this riverbank turned out perfect!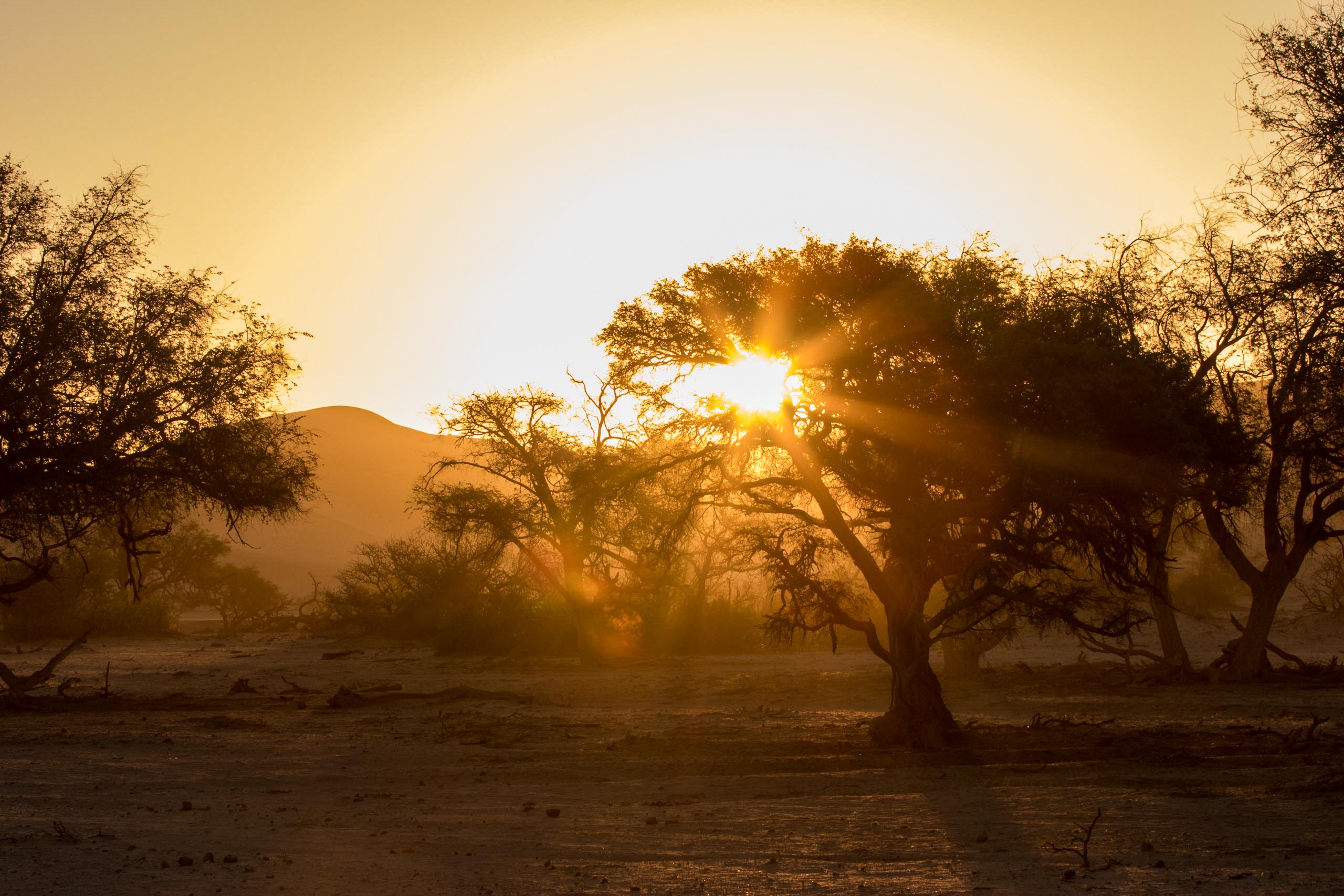 Completely exhausted from the excitement of the day we decided to call it a day and enjoy some sundowners at the edge of the Huab riverbed, which with the setting sun and sand blowing through the riverbed literally seemed to burn. A perfect end to another spectacular day in the bush and great place to spend the night. We did see a pair of jackals pass by just after sunset, but that was it.
Day 6 – 8 October: Huab riverbed – Sesfontein – Opuwo
We woke up early, as the riverbed was covered in a thick mist! The sun started to rise and after the spectacular setting the day before I was hoping to perhaps find the elephants again, this time with some mist and sunrise…!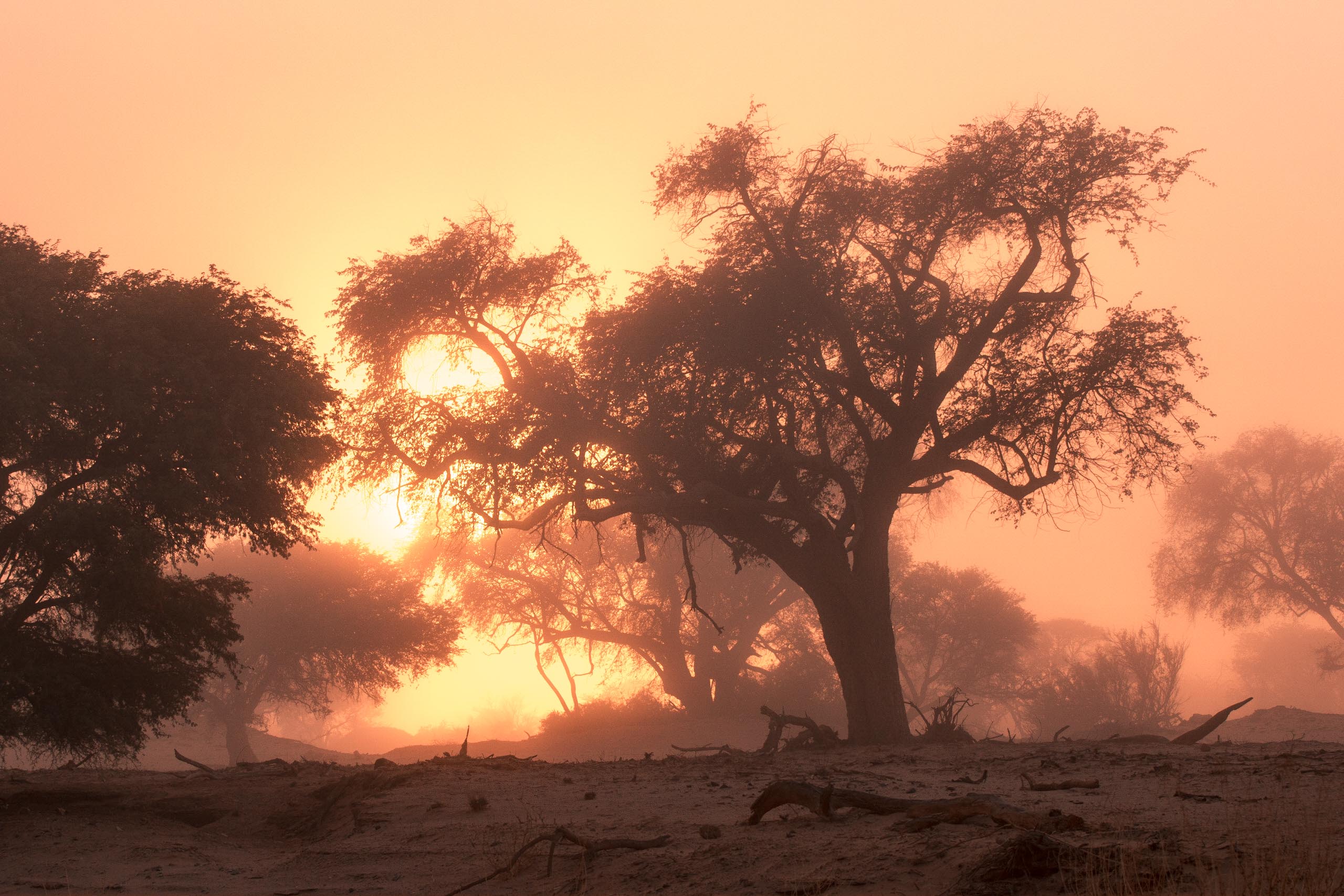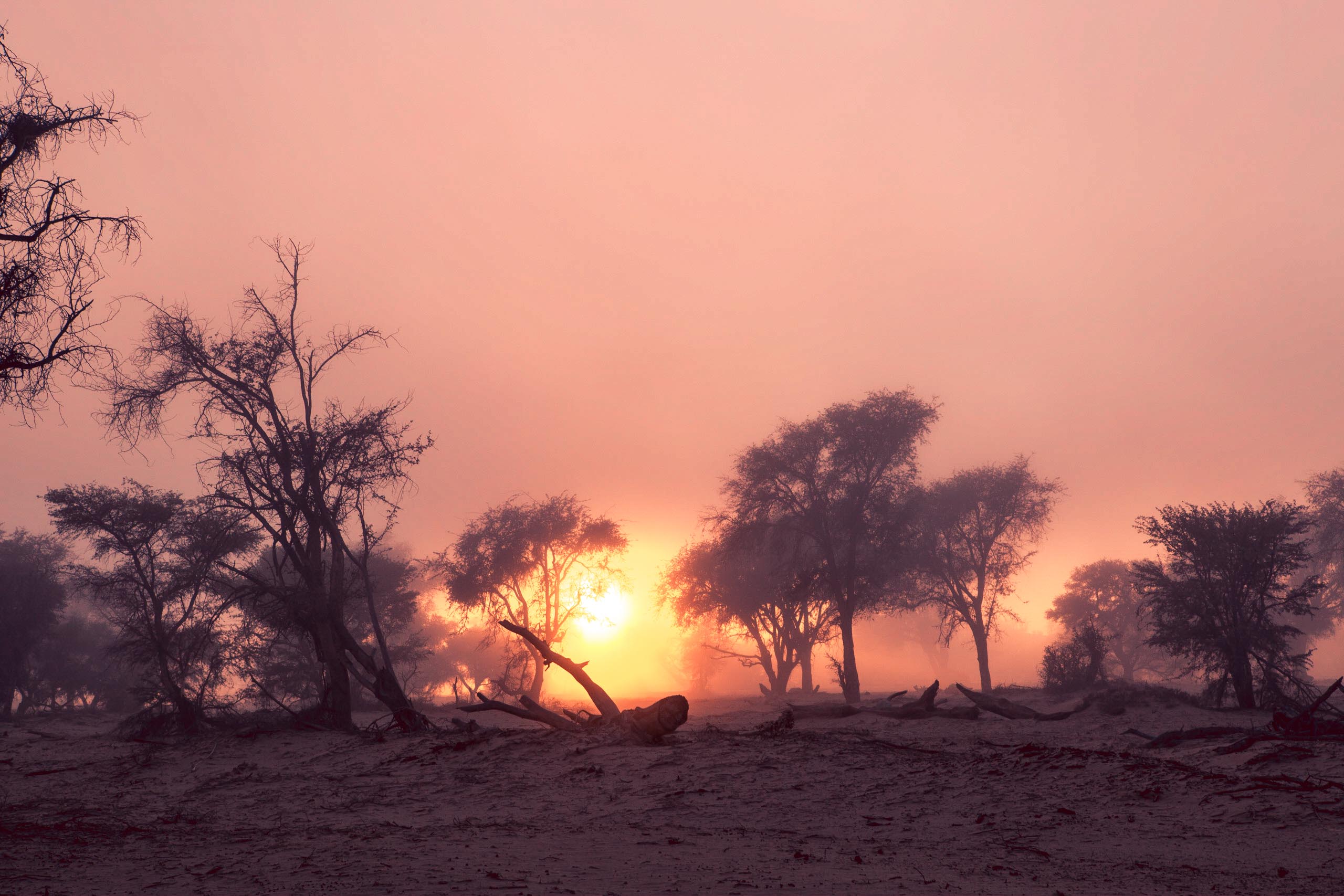 Sunrise, mist and the Huab riverbed – perfect start of the day! Almost… Unfortunately the elephants were nowhere to be seen, but that means I have to come back one day, for that picture which is now stuck in my head… 
We found the elephants a bit later further upriver, when the mist had given way for sand.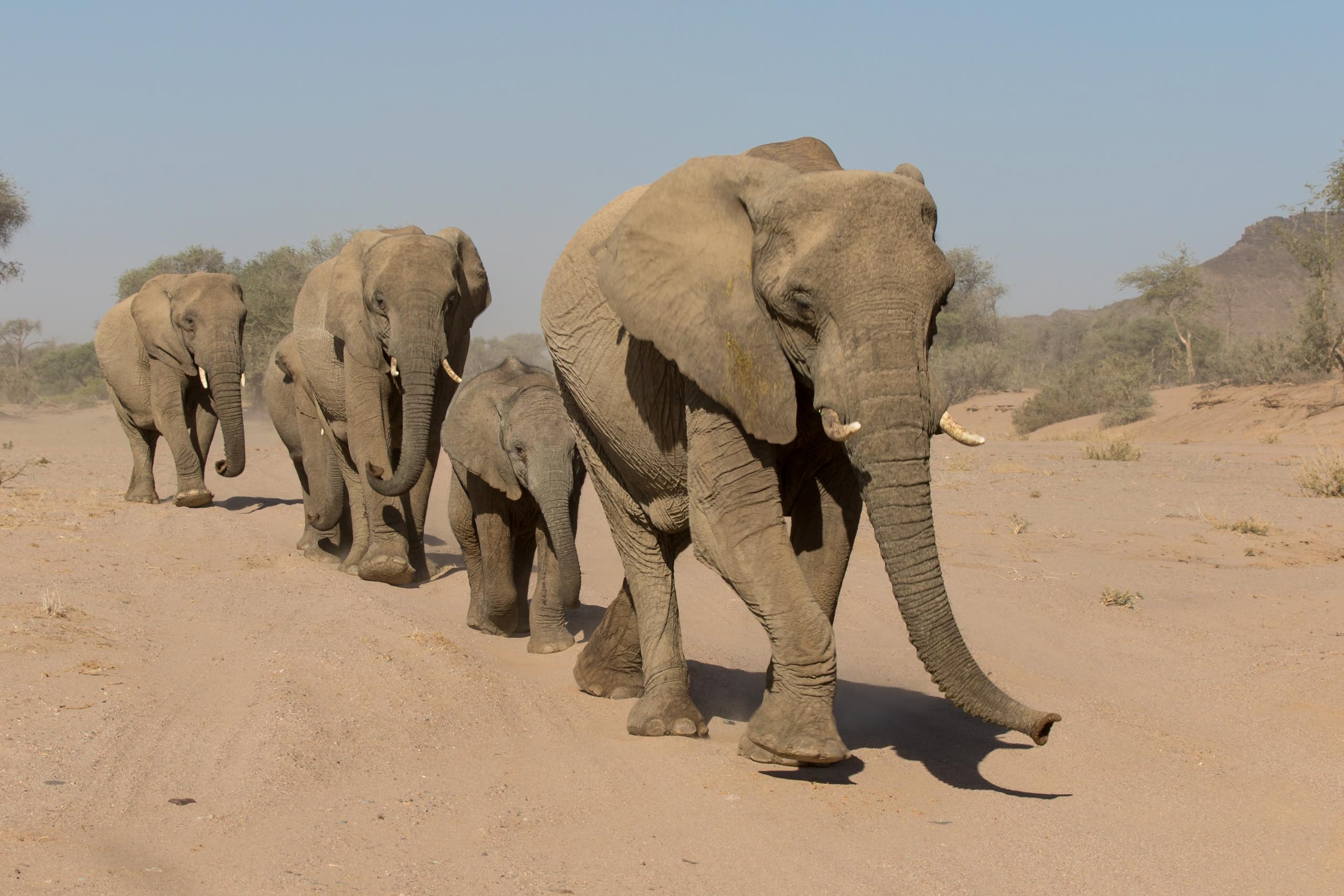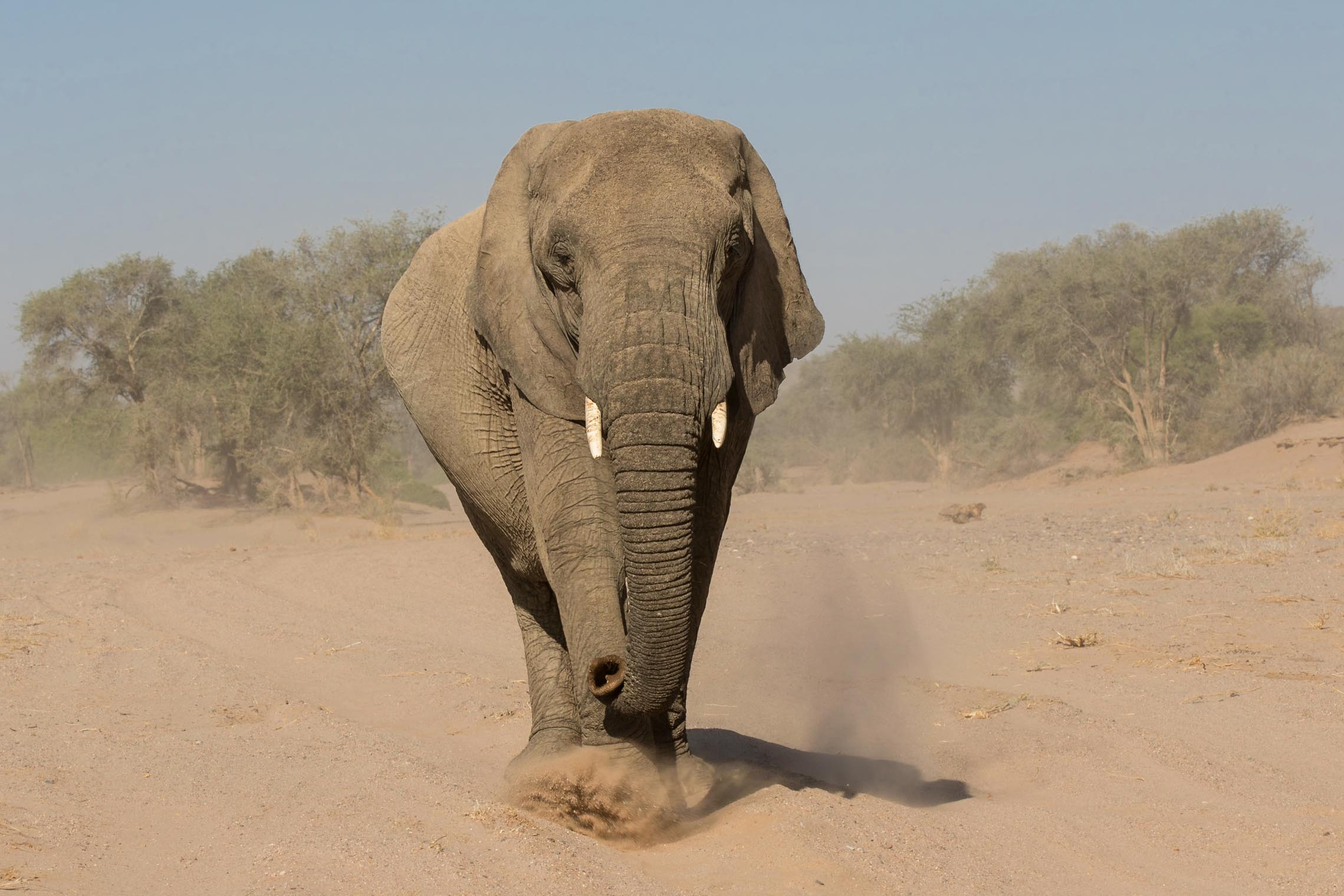 OK, in elephant body language this means: "you're in my way, you have to move". And so we did… Slowly.
We said goodbye to the Huab riverbed and made our way to Twyfelfontein for a quick fuel stop and onwards to Sesfontein and the next riverbed, the Hoanib.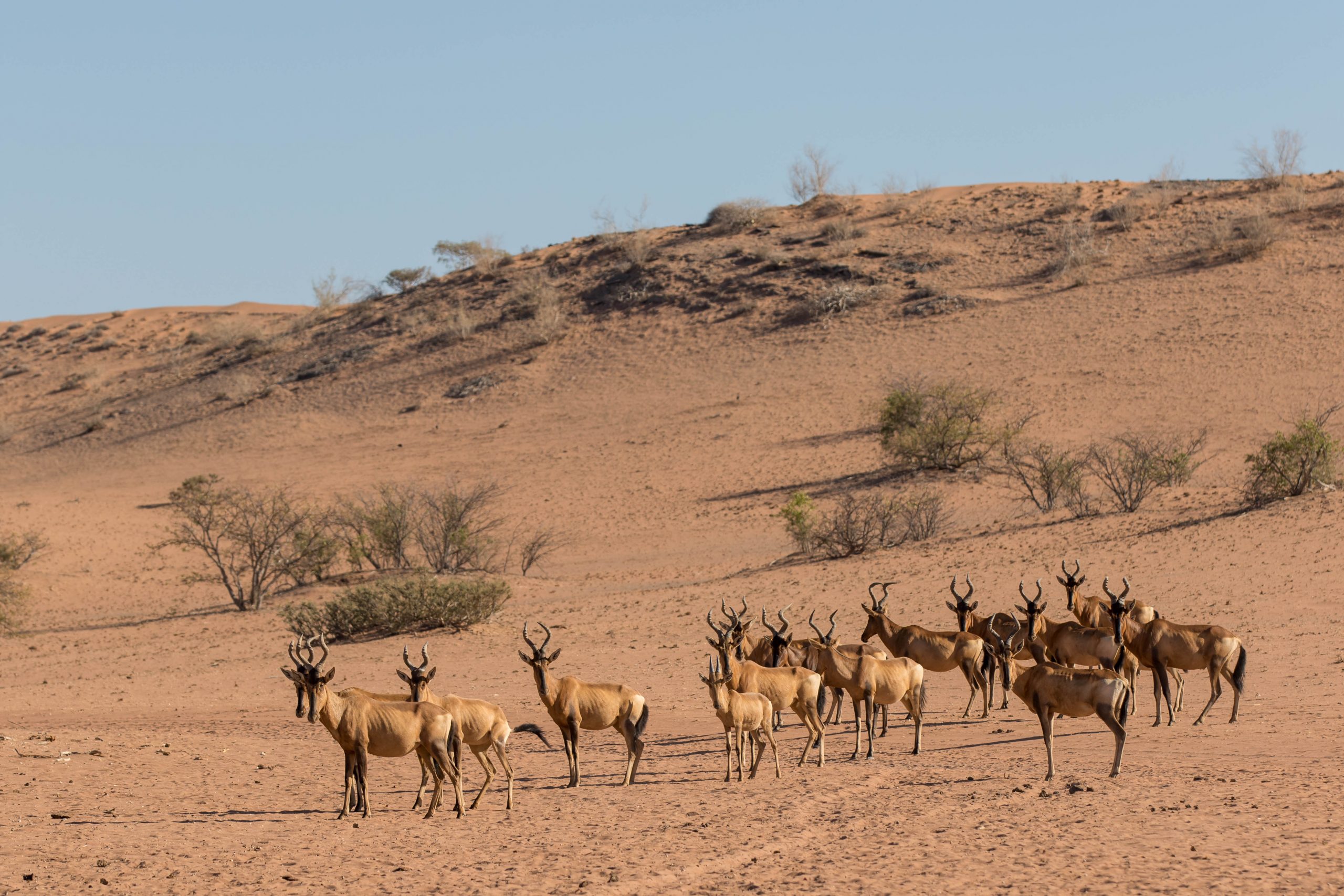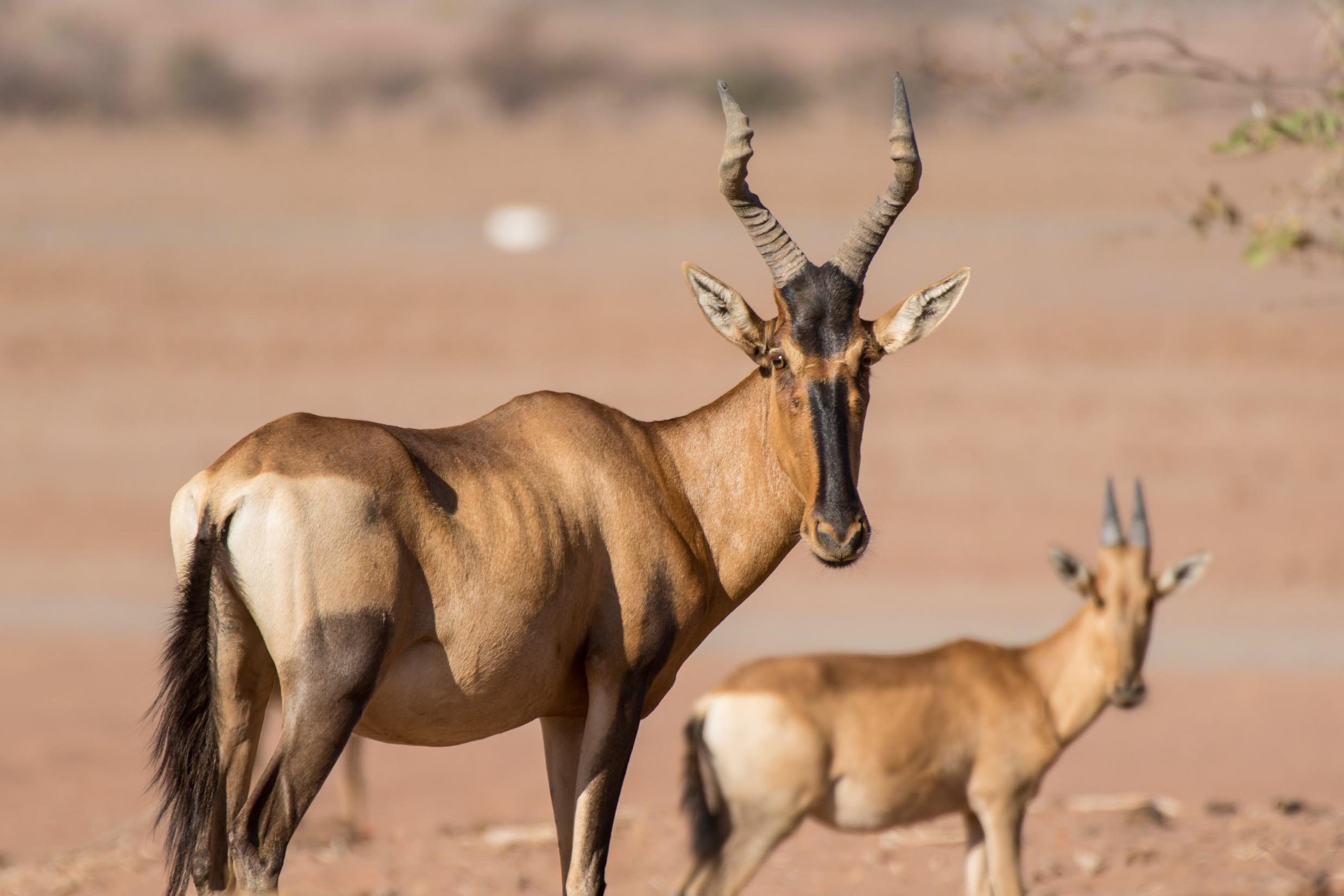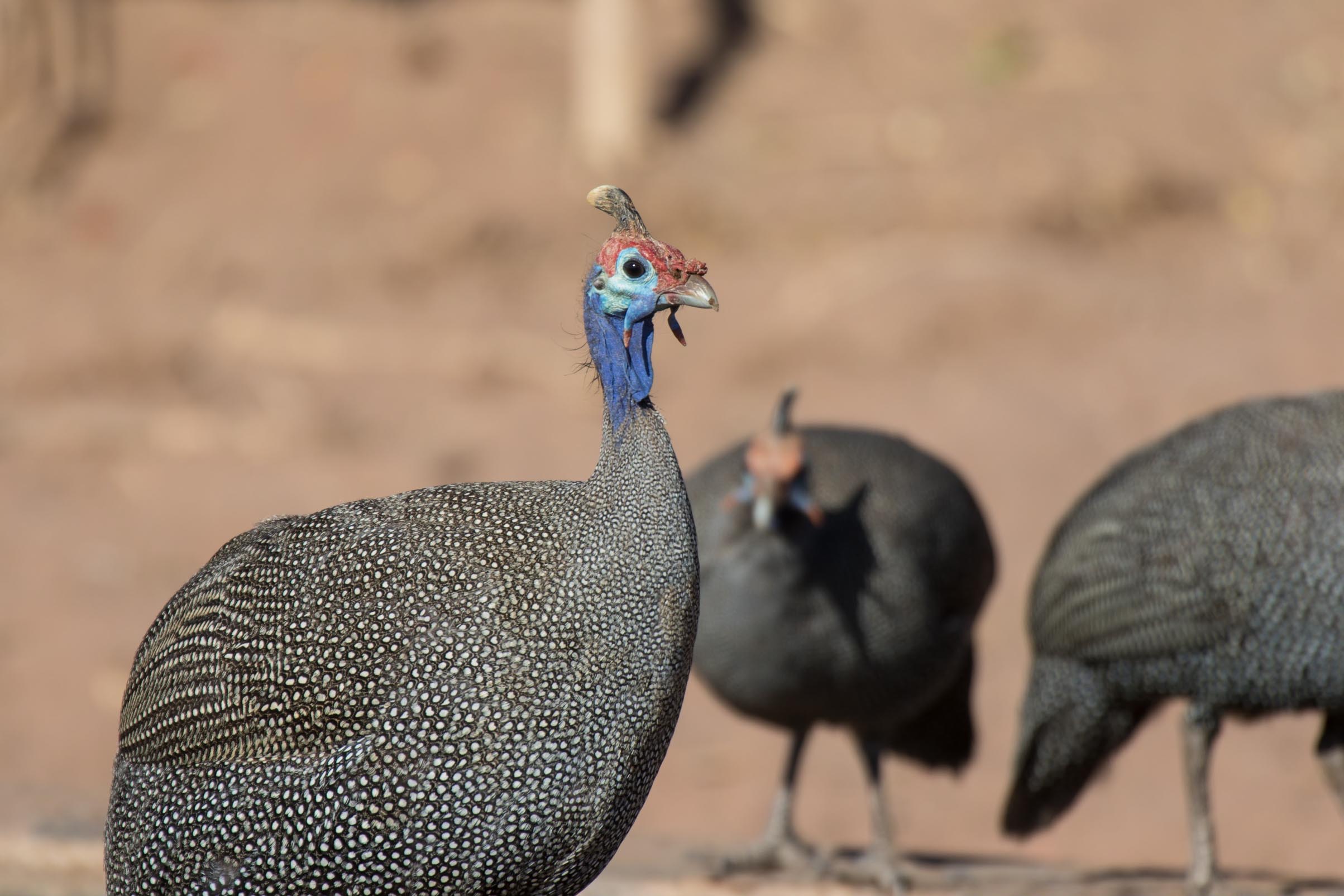 North of Palmwag we saw these beautiful Hartmann's Mountain Zebras on the side of the road.
We arrived in Sesfontein around lunch time and the plan was to continue to the Hoanib riverbed. Unfortunately we had made a mistake by assuming there was an ATM in Sesfontein. Their was not… We didn't have enough cash. Our next destination was Puros, so we had no other choice than to drive to the nearest ATM, which was in Opuwo, a more than 2 hours drive away… I was hoping to be able to drive to Opuwo and back to at least Sesfontein, and then have an early start the next day, into the Hoanib riverbed.
Once in Opuwo that was a bit too much asked for; we were tired, decided to do some shopping and spend the night at the Opuwo Country Lodge. An excellent place and we did not regret the little luxury of a good shower and normal toilet, the first in 5 days…